This primer explains the ins and outs of Amazon Advertising, from the different ad types to best practices and more.
Here, you'll find:
A breakdown of Amazon Advertising

Ways to set up your Amazon ads for success

How to access enhanced ad options

Best practices for ad creation on this platform
What is Amazon Advertising?
We're going to guess that you've seen an Amazon ad before. When searching for a product on the globally recognized e-commerce and streaming site, you'll often see a few "sponsored" items at the top of your results. 
And it's not just products — brands and entire stores can advertise themselves as well.
Getting started with Amazon Advertising (formerly known as Amazon Media Group, Amazon Marketing Services, and Amazon Ad Platform) may seem daunting at first. But if you've launched a website, paid ads, or are familiar with social media for businesses, you'll probably catch on quickly. 
How Amazon ads can benefit your brand
Amazon Advertising refers customers to your product pages, and traffic to those pages is a big part of influencing your placement in search results. The relationship between your product page and ad content is a lot like the relationship between your website's landing pages and the Google Ads that drive traffic to them.
But there's a key difference: the diversity of ad choices and placement. 
Unlike search engine ads on Google or Bing, your Amazon campaign can also appear in recommendation emails, on-site product recommendations, and banner ads, in addition to the keyword-inspired campaigns that resemble Google Ads.
Pro tip: Only brand-registered owners can access anything other than Amazon's product ads. To enroll in Amazon Brand Registry, you'll need to have a registered and active text or image trademark and submit an enrollment request. Applying to be a brand owner will unlock enhanced product descriptions with images and formatting that adds engagement.

1. Optimize your product pages
Before taking out ads on Amazon, you need a fully optimized product page. Each aspect of the page description and layout is integral to your success, so it helps to have a checklist. Deciding on your goals and tracking their success can help you properly manage your outcomes. 
When optimizing your product pages, keep the following parameters in mind:
Product title

– The length shouldn't exceed 200 characters. The title can't contain promotional phrases (e.g. discount, free shipping) but should mention product identifying information like "running shoes" or "sneakers."

Images

– The size should be 1,600 pixels or larger in height or width. You can add up to nine product images, including a main image. Images must be descriptive and convey the size of the product. (Brand-registered owners can add images and videos.)

Key features

– You can highlight 5 key features, but you only have 1,000 characters to do it, so put the most important features first.

Product description

– The maximum length is 2,000 characters for this section. Use short and clear sentences and be honest about the product — overselling could result in unmet expectations and poor reviews. (The description isn't indexed, so using keywords isn't necessary — just focus on pertinent info like special instructions or more details.) 
Adding to your user experience is key with organic optimization. A strong user experience (more time on the product page, more scrolling, more likely to convert) can help build your organic presence and page ranking. 
From there, you can easily capitalize on and enhance ranking when pushing ads to these listings.
2. Fill out the backend search-term field
We've seen too many sellers fail to properly fill out the backend search-term field. This is an important step, since Amazon uses its own algorithm to match user searches with the terms you've mentioned in the product listing's backend. 
Leverage this feature by:
Entering as many unique keywords into the field as possible

Including keyword synonyms, abbreviations, and alternate names

Not repeating keywords (e.g. running shoes for women, warm running shoes) — the algorithm indexes each keyword, so repeating isn't required (e.g. running shoes women warm)

Excluding punctuation, brand name, and ASIN (Amazon Standard Identification Number) so you don't waste characters
Pro tip: To find the backend search-term field, log in to your Seller Central account and go to Inventory Tab > Managed Inventory > Edit.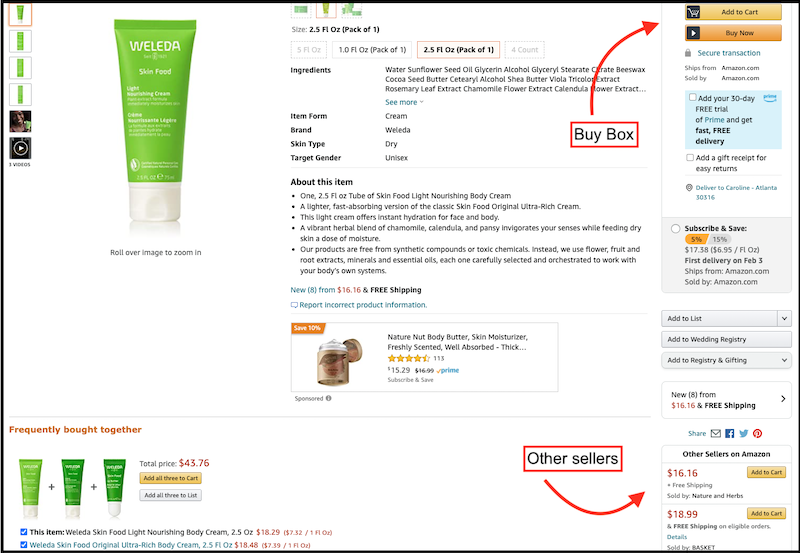 3. Get familiar with the Buy Box Algorithm
Unless your product is in a total class of its own, it's likely that other Amazon merchants are selling similar wares. To make sure your product is the one that ends up in people's carts, it helps to win the Buy Box competition. 
The Buy Box is the space to the right of the product with the "Add to cart" button. When the customer clicks the button, your product goes into the cart. 
As BigCommerce explains, "only businesses with excellent seller metrics stand a chance to win a share of this valuable real estate." With the right elements in place, it's possible to win the Buy Box even if your pricing is higher than the competition's. 
To compete for the coveted Buy Box, you need:
A professional seller account

Buy Box eligibility status

To sell new (not used) items

High performance metrics (such as timely order fulfillments, positive seller reviews, and high conversion rate)
To improve your chances of winning the Buy Box, you can:
Lower your price (if you have less than top-notch performance metrics)

Offer quick shipping

Optimize your Amazon ads
With the rise of mobile Amazon users, the Buy Box is especially important. In the site's mobile version, the box is directly under the product's image, while the rest of the offers are out of sight.
Pro tip: Even if you are the only seller, you're not guaranteed to be in the Buy Box.
4. Conduct keyword research
The research you put into appropriate keywords is the key to getting the returns you want out of Amazon Advertising. You can do manual research by plugging words into Amazon's search bar and seeing when you find products similar to your own. 
You can also make use of negative keywords. Look through your Search Term report for negative keywords to prevent irrelevant traffic, which results in wasted clicks and spend. 
Amazon allows you to also negate product listings from your ad campaigns. If you've been showing up with one of your own listings under "other items" and paying for those clicks, you can now block that from happening. 
Amazon offers its own marketing tools to assist new advertisers, which can give you some starter keyword recommendations. These aren't always right for your product, but they can be a place to begin testing.
If you're using Google Shopping ads, you can discover new keyword opportunities for your Amazon Advertising campaign. The Google Ads' search term report can show you which terms drive the most revenue. 
Pro tip: After you have some experience with the platform, you can reverse the process and use profitable Amazon terms for your Google advertising campaign as well.
5. Select a format
These are the major sponsored ad categories you can choose from when setting up a campaign:
Product display ads

work by selecting other products or keyword-related interest themes to seed your product as a recommended product or similar option. Display ads also run off-site remarketing display ads similar to Google's display ads (only available to brand-registered owners).

Brand ads

display as banner ads in search results for selected keywords, similar to the mechanism for Google Ads. 

Product ads

appear within the search results for selected keywords as promoted results relevant to the person's search.

Brands videos

are a

newer cost-per-click (CPC) ad type

that auto-plays a video while also showing an image, description, and link to the product below it.

Lockscreen ads

allow you to target your audience with

ads for e-books

they may be interested in reading.
It helps to run test campaigns in a few different formats to determine which one delivers the best return for a particular product and to see if using a few ad campaigns together provides even better results. 
As a reminder, brand ads, videos, and display ads can only be unlocked if a seller is a brand-registered owner.
Pro tip: In September 2021, Amazon added a new reporting feature. You can now view top-of-search impression share (or IS), which is useful for brand awareness when gauging your bids and budgets as compared to your competitors.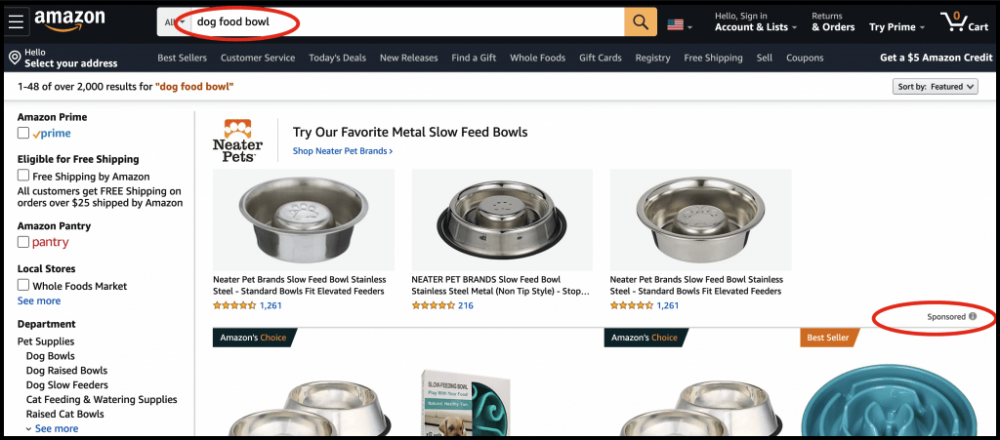 6. Take advantage of the available features
Amazon is consistently updating and expanding its ad features. For keywords, Sponsored Brands broad match can now use "modifiers +" to ensure the word is in the search, rather than pure broad match that can match with related words or phrases.
More recently, they rolled out ad groups for Amazon Advertising vendors. This gives you the ability to further organize and efficiently structure your campaigns. (It was originally only available in the Seller Central platform.) 
There's no one-size-fits-all method for Amazon Advertising, and new updates are introduced regularly. Because of this, it's wise to keep an eye on the site's advertiser information to stay in the know about the latest features and developments.
Pro tip: It's key to know what products Amazon does and doesn't allow on its platform. For example, the Environmental Protection Agency (EPA) has been very strict as of late when it comes to selling pesticides. These products require an EPA registration number to be sold — here's Amazon's full Pesticide Policy.  
7. Decide on sponsored brands vs. sponsored products
A sponsored brand campaign can be effective for more general or broad keywords. These campaigns also let you show an array of products instead of a single item.
For example: If someone searches for "running shoes," you can show several of your best-selling sneakers to give the user more options and highlight variety. 
Sponsored products, on the other hand, will show a single product. These ads are great for more specific searches. If someone is looking for "women's orange trail running shoes," you can show a more specific product than you would in the previous example.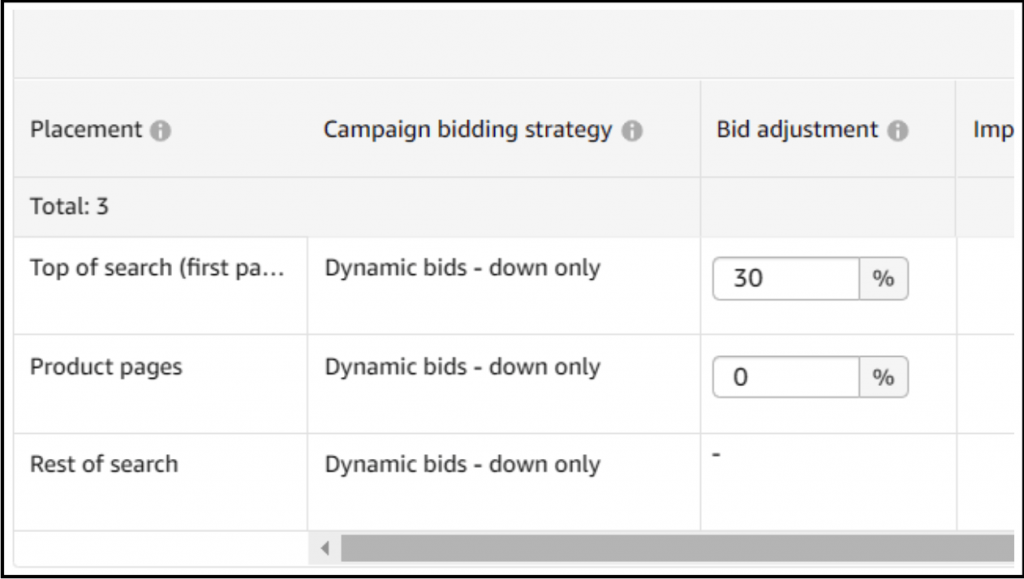 8. Have a thoughtful bidding strategy
Outside of your main bids on keywords or ad groups for automatic targeting, you have the ability to adjust bids on placements where your ad shows. For automatic targeting, you can bid on targeting groups. 
When it comes to deciding between manual and automatic bidding, we've found that manual targeting is the best way to control what your ad shows for as you put in keywords with match types and bids. 
You can run manual targeting with more budget focus in tandem with an automatic campaign with less budget focus. The campaign can help you discover new keywords to strengthen your manual targeting. 
9. Focus on long-tail keywords
While short-term keywords are important, long-tail keywords in particular can bring you buyers with high intent. People who add specifics to their search usually know what they want in a product. Once they find it, they're likely to make a purchase.
Typing "running shoes" into the Amazon search field will bring people millions of results to sift through. That's why searchers tend to be more specific when they're ready to buy.
10. Use reviews on your product page
You can use any existing product reviews you have to your advantage, even if you've only sold a couple of products so far.
For example, consider adding your best review to the product's description so it stands out to the potential customer when they browse your product page.
While this review will eat up some of your description space, it can push the customer down the sales funnel more effectively than extra product information would.
11. Use Sponsored Brands video ads
Brand awareness is another key part of a well-rounded Amazon advertising campaign. Not long ago, the platform added the option to use videos in Sponsored Brands ads for brand-registered owners. Just like the rest of the ads, these videos are keyword targeted.
Besides a video, the ad contains important details like star ratings, review count, pricing, and Prime eligibility. Videos often do a better job engaging customers than static content does. Including them in your ads can help you improve brand awareness and sales to boot.
12. Use the "adjust bids by placement" option
"Adjust bids by placement" (formerly Bid+) is a feature that allows you to set bid multipliers (between 0% and 900%) for Sponsored Products. The multiplier will kick in when you compete for the right to show your ad in a certain place (top-of-search, product pages, rest-of-search) on the platform.
On Amazon, the place where your ad appears can be just as important as the bid size or keyword relevancy.
By using this option, you can figure out which ads work best in which scenario. It can also be paired with your dynamic bidding strategy.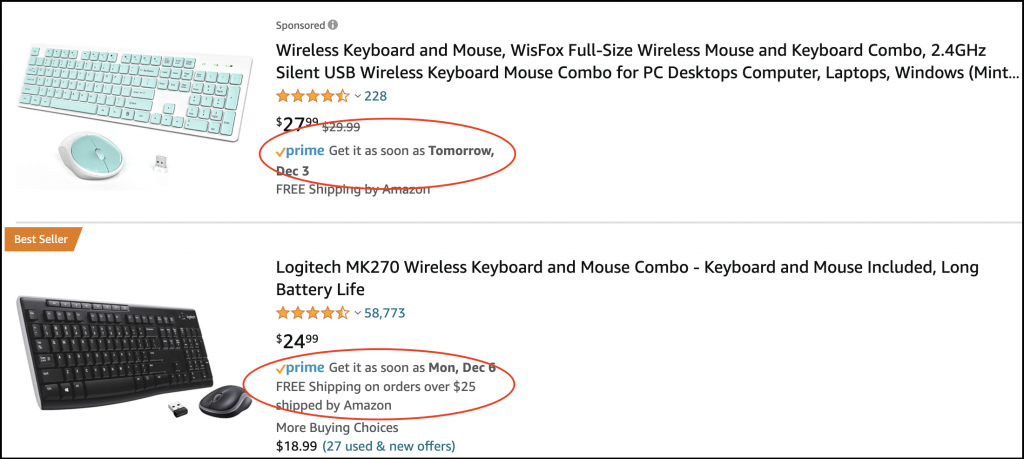 13. Understand Amazon Prime
Obviously, Amazon Prime (​​a paid subscription program offering free delivery, exclusive deals, and more) is a huge part of Amazon's overall selling strategy. Many customers seek out products that are eligible for Prime in particular.
Whether or not your offerings are qualified for Amazon Prime depends on a few factors. As Search Engine Journal explains, to become Prime eligible, your products must be sold through Vendor Central, the Kindle Direct Platform (Create Space and Merch), or Seller Central via the Fulfillment by Amazon (FBA) Network or Seller Fulfilled Prime (SFP) programs.
SEJ adds that, "If you have a direct competitor either on your listing or a similar product that has an FBA offer, customers will more than likely pick the Prime offer over yours."
Pro tip: Another Seller Central platform benefit is the ability to keep tabs on your account health and performance metrics via a handy dashboard. 
The takeaway
Using Amazon as a marketplace and order fulfillment hub is a great opportunity for businesses of all sizes, but it's not a guaranteed road to riches. 
You'll need a good strategy, determination, and a long-game mindset to get the results you want. Follow the steps above to create Amazon ads that shoppers can't help but notice.
This article has been updated and was originally published in September 2019.