If your Amazon PPC campaigns are lacking, then it might be time to call for backup.
Here you'll find: 
What Amazon PPC agencies do

How these agencies can help your Amazon plans success

The 10 best Amazon PPC agencies in 2022

The benefits of partnering with an Amazon agency
Whether you recently added Amazon ads to your marketing arsenal or are looking to scale up your efforts, you're in the right place.
The platform is 44% cheaper and can even surpass Google ad performance in certain instances. 
But to reap these rewards, it's key to understand the important nuances of this e-commerce platform. How do you measure Amazon ad performance? And if you've plateaued, how do you come back?
Amazon pay-per-click (PPC) agencies abound online — a quick Google search will yield endless pages filled with options. So, how can you filter the best-in-class options from the average Joes?
With a team sporting decades of combined digital marketing expertise, we've gotten pretty good at being able to spot a team with skills to pay the bills – and teams that are way more talk than action.
Since it can be hard to translate all that knowledge, we took a deep dive into dozens of Amazon PPC agencies so we could bring the best of the best right to you
We used data-driven qualifiers to find agencies with the most tailored services, proven strategies and results, and real customer feedback on performance metrics.
Check out the list below, then keep reading to see why each agency was chosen – and which you may want to bring to your next strategy meeting. 
Top 10 Amazon PPC agencies
HawkSEM
Profit Whales
JumpFly
Bellavix
Nuanced Media
Blue Wheel Media 
Fortress Brand
Ignite Visibility
Thrive
Disruptive Advertising

#1 HawkSEM Digital Marketing Agency
Based in Los Angeles, HawkSEM (hey, that's us!) is a results-driven, ROI-focused digital marketing agency. Since 2006, we've helped brands of all kinds scale their e-commerce marketing strategies, from small businesses to big-name enterprises and everything in between.
How do we do it? We fuse our human touch with the latest, greatest technology and tools. 
Our exclusive platform, ConversionIQ, helps us take things to the next level by automating growth signals, account anomaly signals, trend performance, reporting, and more. It also helps us accurately depict your buyer's entire journey, from first sight to purchase, helping companies avoid the dreaded abandoned cart.
HawkSEM is backed by reputable companies that have experienced our results first-hand. We've been recognized in the Google Partners program's top 3% of U.S. agencies for our ability to drive success for our clients, from doubling Nike's e-commerce conversions and reducing Honda Motor Co.'s cost per conversion by 30% to doubling Mighty Leaf's holiday sales. 
Services:
PPC Ads Campaign Management

Search Engine Optimization

Amazon Marketing

A/B Testing

Campaign Strategy & Execution

Conversion and ROI Tracking
If you want customized results backed by artificial and human intelligence, we're your people.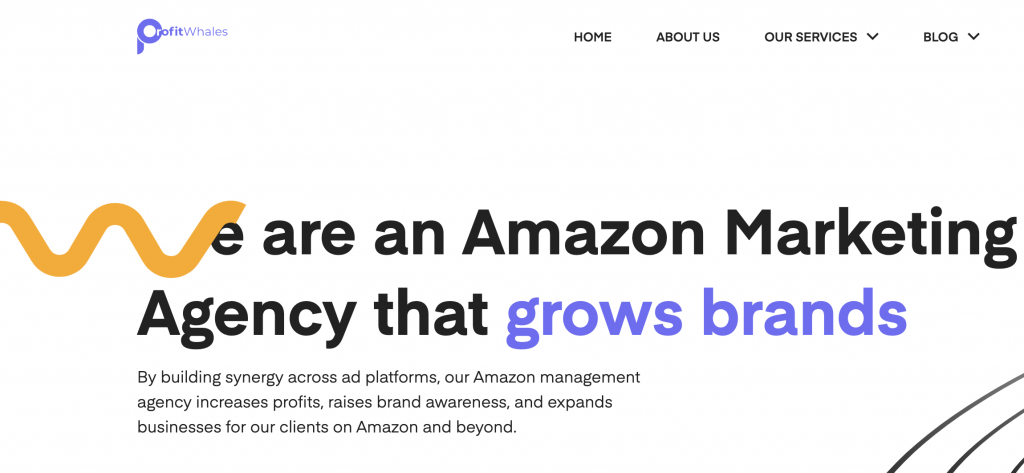 #2 Profit Whales
Profit Whales is a dedicated, full-service advertising agency for Amazon sellers. The company's founders and staff aren't just marketing professionals — they've been in your shoes, starting as Amazon sellers themselves back in 2016. 
Co-founder Oleksandr Nyeznyk has spent years learning the ins and outs of Amazon, working as a prominent Amazon seller and founder of two other niche Amazon agencies. 
Advocating a cross-channel strategy for multiple e-commerce platforms, Profit Whales has a comprehensive six-step approach to PPC management: 
Analysis

Strategy

Management

Support 

Analytics

Growth
It all starts with a 2-hour audit call — which is sometimes enough for brands. They get deep into the details, identifying keyword issues, campaign structure, and audience segmentation. As for their customers? A sweep through TrustPilot, G2, and Clutch.co reveals near-100% praise, with customers beaming about tripled profits and visibility. 
Services: 
Amazon PPC Audit

Keyword and search engine optimization (SEO) analysis

Account Metrics

Marketing Effectiveness

Amazon Product Ranking

Amazon DSP Ad Services

In-depth Reporting

Remarketing Tactics

Amazon PPC Management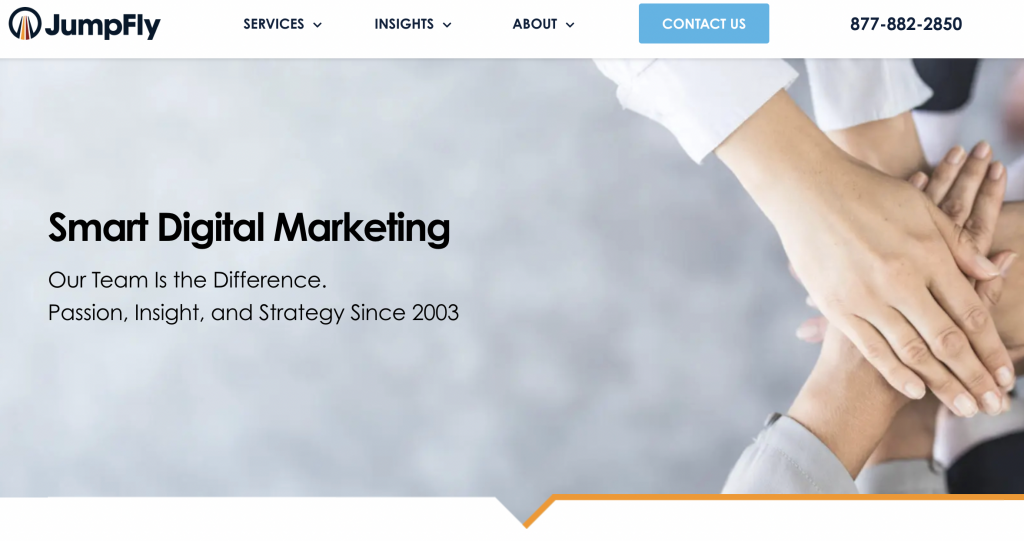 #3 JumpFly
Digital marketing is stressful, even if you're good at it and your product sells. JumpFly recognizes this and cleverly markets its services as packaged "peace of mind." So, how do they do it?
Take these results for one client who owns a kitchen appliance company. 
JumpFly increased this brand's Amazon ad revenue by more than 1,000% in just seven months. This Amazon PPC agency speaks ROI as a first language. JumpFly also garners kudos for its laser-sharp attention to customer service.
The team takes time to get to know you and introduce you to your strategy director before ever billing you. 
The company prides itself on helping businesses grow from a simple PPC strategy to smart digital marketing. Plus, they offer a free PPC audit for clients who invest over $5,000.
Services: 
Social Media Advertising

Amazon Ad Management

Full Scale Paid Search (Google and Microsoft)

SEO Strategy and Link Building

Real-Time Monitoring

Extensive PPC Audit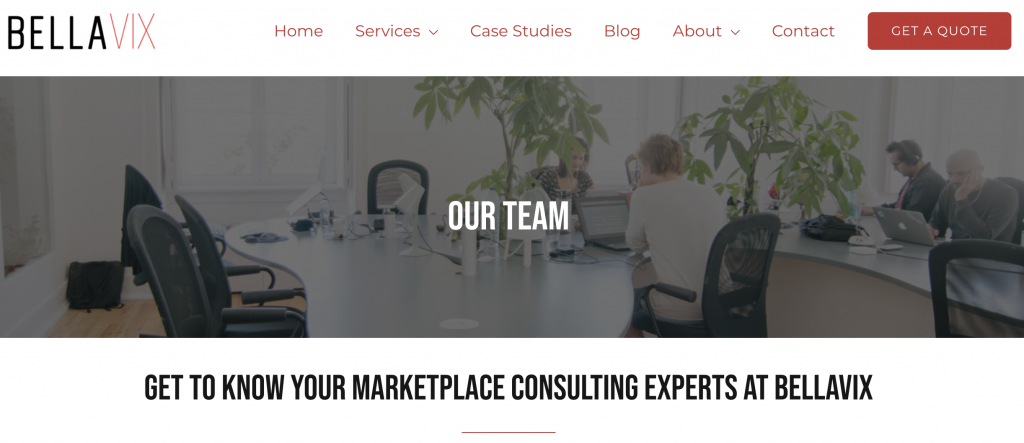 #4 BellaVix
BellaVix caters to two types of Amazon sellers: Vendors selling to Amazon and those selling to Amazon customers. The company's impressive user-intent funnel helps them pinpoint high-intent audiences to drive sales and revenue with five steps: 
Brand awareness

Customer Engagement

Purchase Intent Analysis

Conversion

Recurring purchases and customer loyalty
CEO Will Haire has an impressive advertising career. In 2018, he founded BellaVix and expanded its reach to support Google Shopping, eBay, Walmart, and Amazon sellers. Before that, he managed Amazon PPC campaigns at Bobsled Marketing.
Clients applaud BellaVix's close communication, transparent process, and performance-driven strategies, noting higher ROI and time efficiencies for companies in varied niches — health, home decor, e-commerce, beauty, and more. 
Services: 
Paid Search (PPC) for Amazon

Full-Funnel Advertising Strategies

Amazon Display (DSP)

Sponsored Brand Ads

Sponsored Product ads

Display Ads for Amazon

Amazon Seller Central Management Services

Vendor Central Management Services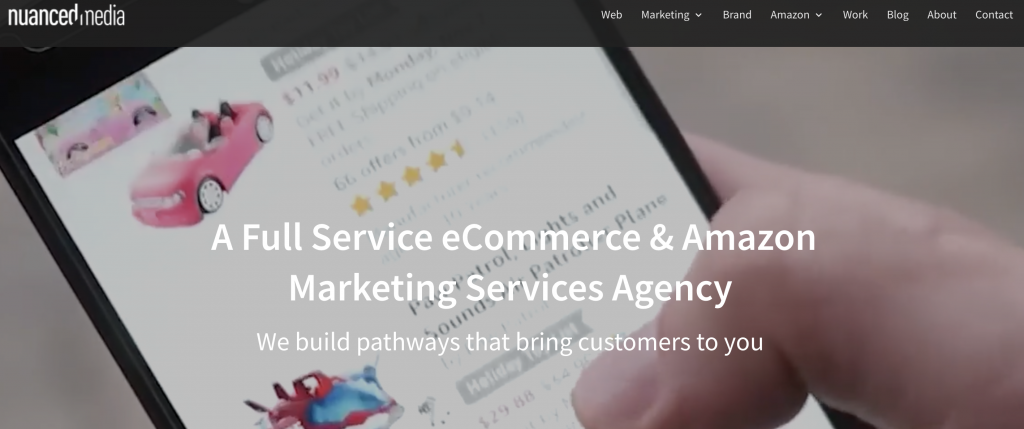 #5 Nuanced Media
Nuanced Media is a top Amazon marketing agency in the U.S., offering customized approaches for every client. Whether you're not hitting ROI goals, keep getting bested by competitors, or regularly overspend on a bid strategy, Nuanced will help you correct the issue through data-backed optimization and a team of expert strategists, developers, designers, and writers. 
One Amazon seller cites a whopping 450% increase in sales after working with Nuanced. A quick sweep through their case studies reveals similar successes.
Nuanced Media is a strong fit for brands focused on e-commerce and Amazon. Their Market Velocity Action Plan Process helps you zoom in on your target audience and create a foolproof, multi-channel e-commerce marketing strategy. 
Services:
Amazon Consulting

E-commerce Marketing

Amazon PPC Management and Optimization

Weekly, Bi-weekly, and Monthly Reporting

Bid Strategy Real-Time Monitoring

Targeted Ads and Keywords

Amazon DSP Management

DSP Metrics

AI Dynamic Ads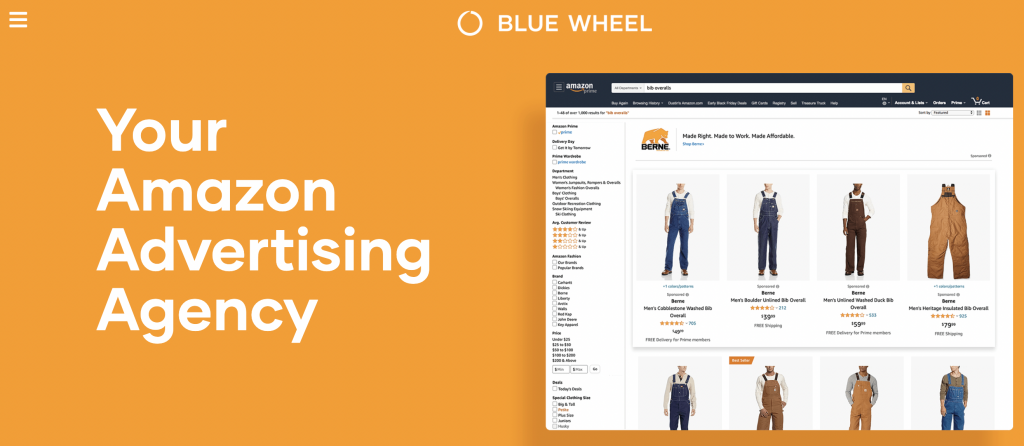 #6 Blue Wheel Media
Blue Wheel Media has been in business for only three years, but the founders are no strangers to fast growth. They've created brands and built them up to generate $50 million in sales.
Their proprietary software, Companion, is the first of its kind to isolate search terms and automate keyword harvesting in real time. Blue Wheel believes in its process so much so that if they can't find you savings on ad spend, they'll refer you to another ad agency that can.
Services: 
Amazon Advertising Management, DSP

Sponsored Ads; Video Ads

Auto-Bidding Management Technology Access

Real-time Keyword and Negative Keyword Research and Harvesting

Weekly Trend Analysis and Bi-Weekly Reporting

A/B Testing for Sponsored Brand & Product Display Ads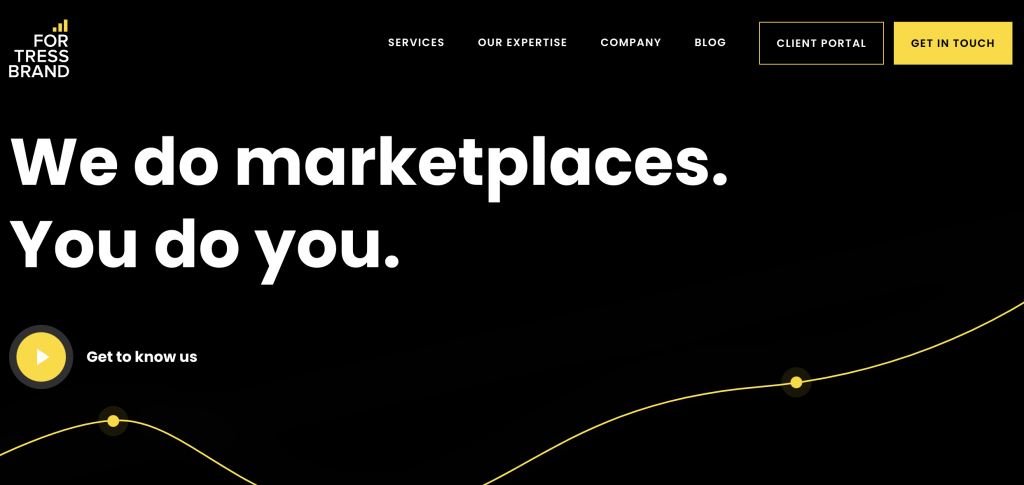 #7 Fortress Brand
Fortress Brand is an Amazon PPC agency specializing in beauty, health, and wellness brands, with proven success for clients in these niches. 
Headquartered in New York City, Fortress Brand combines PPC, SEO, and content marketing to drive conversion rates.
And if you're into hands-off, passive income? Fortress Brand buys your products from you directly before marketing them to the world. Full-marketplace management is a step up from your average Amazon PPC service provider. 
The structure gives them a unique incentive to drive high performance. Plus, you can keep tabs on progress with the client dashboard. As for data and tech? Fortress Brand has an in-house proprietary marketing technology that tracks brand performance, customer lifetime value (CLV), sales reporting, and more.
Fortress Brand also offers a first-party structure, where they deal with Amazon directly and charge a percentage of your sales. 
Services: 
Full marketplace management

1P Management

Market and Competitor Analysis

Global Marketplace Access

Brand Strategy

Real-time Client Dashboard
#8 Ignite Visibility
Need more than referrals or reviews to feel confident partnering with an Amazon PPC company? Ignite Visibility has an impressive reputation, topping lists for the best SEO company, paid media company, and digital agency in the U.S.
Ignite Visibility specializes in email marketing, SEO, pay-per-click advertising, social media marketing, and Amazon Marketing.
While Ignite manages $100 million in advertising dollars annually, they only work with businesses at the top of their vertical. That means the crème de la crème of Amazon sellers and businesses: Experian, DoorDash, Office Depot, and Morgan Stanley, among others. 
Perhaps that's why each client gets more than one account manager — outfitted with an entire, dedicated Amazon marketplace team. 
The result? Increased ROI and incredible time savings, according to past happy customers. 
Services: 
Amazon Ad Console Management

Seller Launch Consultation

Reporting

Organic Rank Enhancement

Amazon Listing Updates & Optimizations

Amazon DSP Management
#9 Thrive
Thrive is a comprehensive digital marketing agency. Their full-service roster includes SEO, link-building, e-commerce web design, online reputation repair services, and more. 
Each client gets a dedicated PPC account manager and marketing team to handle theirAmazon PPC advertising. What's more, their team of web designers and marketers can create branded graphics and logos, as well as high-resolution photos and videos. 
Thrive takes businesses through a carefully tailored journey, starting with building brand awareness with keywords before even touching Amazon advertising. As a result, clients praise Thrive's process and impressive ROI. 
Services:
Sponsored Product Management

Product Display Ads

Amazon Video Management

Amazon Vendor Central Management

Reputation Repair and Management

SEO Services and Link Building

Social Media Marketing

Video Production

Email Marketing

#10 Disruptive Advertising
Do you forget about product listings or leave them to the last minute? Disruptive can help. As an agency, they advocate for careful analysis of each listing's SEO and PPC elements to maximize reach. In fact, that's the first step in their Amazon Advertising methodology. 
First, they analyze, sifting through product listings with a fine-tooth comb. From there, they help you build and optimize campaigns based on ad analysis to improve CTR and conversions. Lastly, they A/B test and adjust tactics based on test results.
Disruptive specializes in ads across the board, including YouTube, Google, Microsoft, and social media channels. But the agency's expertise with Amazon Ads is a shiny plus for e-commerce businesses in particular. 
Does that mean any brand can work with Disruptive? Unfortunately, the company shies away from early startups. Rather, they're looking for clients with millions in annual revenue with a budget of tens of thousands for monthly ad strategy. 
Services: 
Google Ads

Search Engine Optimization

Microsoft Ads

Amazon Advertising

Amazon PPC Management Service

Email Marketing

LinkedIn Ads

Website Optimization

CRO for E-commerce businesses
The benefits of working with Amazon PPC agencies
Even for seasoned e-commerce marketers, managing Amazon campaigns can be a full-time job. Partnering with an agency takes all those detail-oriented tasks off your plate and offers the combined know-how of experienced pros. 
An Amazon PPC agency can help you:
Manage bidding

Build brand awareness

Stay on top of market trends

Inform ad campaigns with data

Improve rankings

Pump up sales and ROI
And if that's not enough to convince you, just think about the time you'll save having someone else regularly update keywords, monitor Advertising Cost of Sales (ACoS, a term used by Amazon for their sponsored ads), study Amazon's market and features, pivot campaigns, and address the Buy Box algorithm.
With an Amazon PPC agency in your corner, you'll get peace of mind knowing your program is in good hands.
The takeaway
Amazon Advertising boasts serious benefits for your e-commerce business — increased glance views, boosted orders, and a potential 93% increase in sales, just to name a few.
But you're unlikely to reach your goals if you don't take a thoughtful, competitive approach to your Amazon PPC management strategy. 
The best Amazon PPC agency protects your business from high CPC and inserts your brand seamlessly into your audience's purview (and checkout cart). Look for agencies that can:
Use proprietary software that manages digital marketing activities in one place

Paint a picture of your buyer journey from first sight to purchase

Provide demonstrated success and improved ROI for other clients

Be flexible enough to work with your niche, size, and channels
Ready to rock Amazon? We'd love to work with you. We'll meticulously study your business and industry, and conduct A/B testing to inform a customizable, tailored strategy to optimize your Amazon campaigns.