Learn how to optimize your online store and organically grow your ecommerce business with Google Shopping SEO strategies.
Here, you'll find:
So you have an online store. Now what? Pay for ads and wait for sales?
Sure, that's an option. But it's not the best approach for businesses looking to rank higher and more organically. 
Ever since Google launched free listings on Google Shopping in 2020, more ecommerce retailers are jumping on the digital train to attract new sales. However, with those brands competing with each other to top search engine result pages (SERPs) and become the go-to choice for customers, these sites have become a battleground.
Many business owners saw Google Shopping as an additional avenue to invest in organic rankings instead of relying on social media or spending a hefty amount on paid ads every year.
While these tactics can be great for some companies, they typically require consistent effort and stream of income. 
Properly leveraging search engine optimization (SEO) is a great, cost-effective method to more efficiently navigate this digital landscape and competitive market. Once you rank, you can essentially generate sales automatically without the expenses that come along with tactics like paid search.
Whether you're an ecommerce marketer looking to optimize your site to increase sales,or a budding entrepreneur looking to build your own online store, we've put together a comprehensive guide on SEO for Google Shopping. What's more, you'll learn impactful strategies straight from the experts to help transform your ecommerce site. 
Let's get started.
 

What is Google Shopping SEO?

SEO for ecommerce — in this case, for Google Shopping — is a digital marketing strategy that involves optimizing your new or existing online store to rank higher and more organically in search engines. 

Digital retailers with a well-designed, optimized website featuring high-quality content have a greater chance in ranking better than those that do not. In turn, this helps increase leads and conversions — and ultimately, sales. 

SEO has become one of the greatest traffic drivers in recent years. When comparing organic and paid search results, more than half of all web traffic comes from organic, while only 15% comes from paid. 

For ecommerce businesses, 43% of their traffic comes from organic Google search results. So you can see why SEO for ecommerce is incredibly beneficial (even more on that later).

Unlike SEO for content-focused websites, ecommerce SEO goes beyond just adding keywords, writing blog posts, and link building. So, it's essential to understand how search engines work and what they provide.

This includes having thorough knowledge of SEO for ecommerce, accounting for Google's (and other search engines) guidelines, and analyzing buyer intent.

While you likely won't see magical results happen overnight, after a bit of time and patience, your efforts are sure to be rewarded.
What is Google Shopping?
Simply put, Google Shopping refers to the "Shopping" tab when you conduct a Google search.
While there are still ads that appear at the top and bottom of the SERP, everything that appears in between these sections will result in organic traffic to an ecommerce website.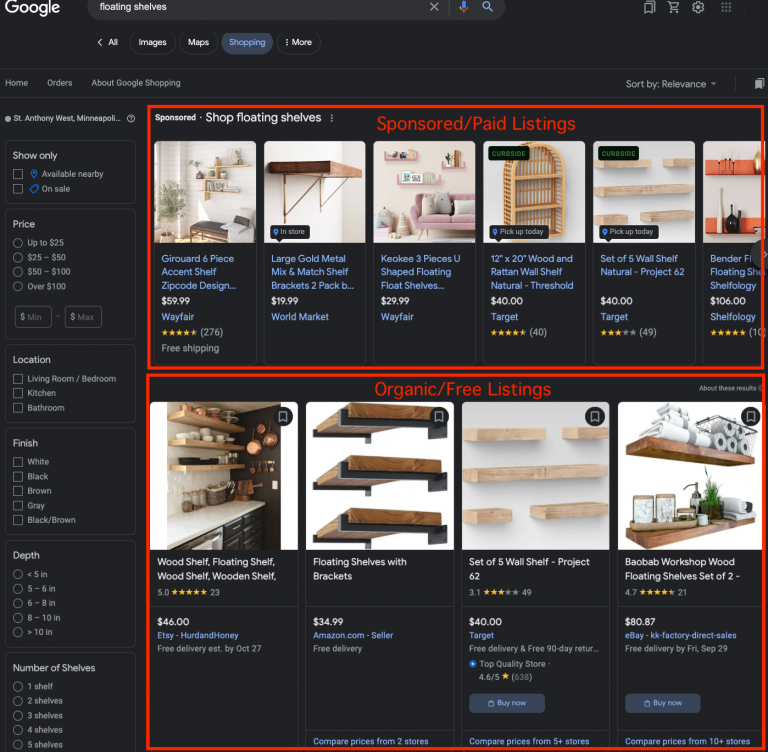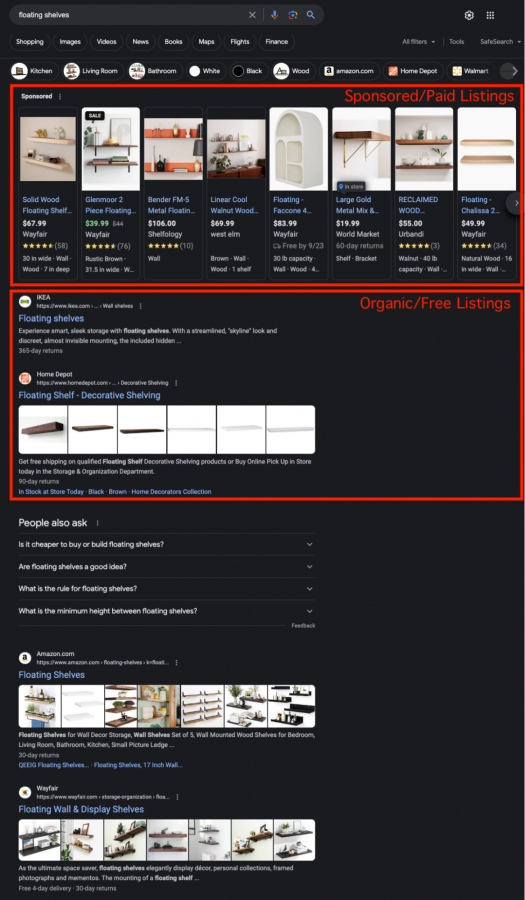 With Google Shopping, consumers can research, compare, and purchase products from a wide range of online stores. The comparison shopping engine (CSE) features a carousel of products from various brands in response to a specific search query.
Online business owners also have the ability to display their best products, including prices and unique features, making it a great way to attract leads with buying intent to your online store!
 

How does Google Shopping work?

Google Shopping is just like Google's classic search engine — but for products. The way Google ranks products is similar to the way it ranks websites, with a few nuances.

Google Shopping works via product data sheets known as "feeds," which are submitted by merchants. Anytime a user enters a search term on Google Shopping, the algorithm processes the merchant data to surface all products that match that request, and then organizes and displays the results in the form of product ads.

Shoppers can access the platform directly via the Google Shopping website or by selecting the Google Shopping tab in Google Search. Various filters are also available to further refine product searches, including by location, brand, or price range. 

Merchants also have the ability to toggle a Google Cart icon on their product listings, which allows shoppers to make a purchase directly through the platform instead of visiting an additional website.

We've gathered that product listings are ranked based on satisfying user searches. So, to get the most out of the platform as a business owner, SEO techniques must be applied to your store to achieve higher rankings.
 

SEO for Google Shopping: Key components

We've identified the many benefits of Google Shopping, so let's get into how to optimize your Google Shopping Ads for a higher click-through rate (CTR).

Your Google Shopping feed is essentially a large spreadsheet that includes columns for each of the different attributes of your products. So, when we're talking about optimizing product details, we're referring to adjusting the values of a certain attribute. 

Here are our top 7 Google Shopping SEO tips:
1. Optimize your product feed
To increase the visibility of your Google Shopping campaigns, you'll want to create a thorough and accurate shopping feed. This process involves both analyzing your own feed and conducting competitor research — and is well worth it. The more detailed and up-to-date your feed is, the better. 
Tips for optimizing your product feed
When you're working to optimize your product feed, a few helpful questions to ask include:
What are your competitors' most profitable categories?

How can you make your Google Shopping campaigns stand out?

What are your competitors' product descriptions like?

How many reviews do your competitors have? What's the average rating of their store?
Once you have the above answers, you can begin to incorporate the necessary changes in your product feed — whether it's creating new product categories, enriching your product descriptions with new keywords, adding custom labels, and more. 
2. Craft engaging product titles
One of the most important parts of your business' shopping campaign is the name of your product(s). This identifier helps the Google algorithm determine how to rank your web page according to a user's shopping search. 
By optimizing product titles, you're able to attract the attention of your potential customers and compel them to click through to your site, while also helping to avoid irrelevant clicks or traffic to your listings. 
Tips for creating SEO-friendly product titles
Understand your audience's purchase behavior:

How do they go about search queries? Are they using specific brand names or descriptive keywords? Understanding buyer intent is a great way to help you know how to generate your product titles.

Use relevant keywords:

A general rule of thumb in SEO is to place keywords at the beginning of the product title. Use tools like Google Search Console or Semrush to help you identify the most relevant keywords. And be sure to not overdo it or you might look like spam.

Include specifics like color, size, and material:

 Your audience is likely to be searching for specific items and may add these attributes to help narrow down their shopping results.

Place the most necessary information first:

Since Google shows only 70 of 150 characters for the product titles, having the most essential details first ensures your potential customers won't miss out on the information you want to present.

Distinguish between product variants:

 If your product comes in different sizes, materials or colors, be sure to include those specific details.

Test your titles:

 A/B test your product titles to identify the best fit for your business.
3. Write compelling product descriptions
Product descriptions provide customers with essential information about a product to help them make a more informed purchase decision. By writing a strong, compelling product description, you're more likely to convert visitors into buyers.
Tips for creating SEO-friendly product descriptions
Highlight the top benefits of your product's features:

 If there's something unique about your products compared to your competitors', be sure to show it off.

Keep descriptions concise and tailored to your audience:

 Before writing your product descriptions, conduct customer research to help you create content that's relevant and relatable to their needs.

Be mindful of formatting:

 Include bullet points, headings, colors, and bold fonts to make your product descriptions easily scannable and readable on your product page.

Incorporate the right keywords:

 Conduct keyword research to identify what your customers are already searching for, and use those keywords and phrases in your product description. 

Use unique descriptions for each product:

 Avoid confusion with your customers by creating unique descriptions for each of your products. Even products that may vary just in color can be tweaked within the first sentence to keep product information fresh and SEO-friendly. 
4. Group products accurately
Product grouping is a classification system used by the Google Merchant Center to categorize listed products for Google Shopping. The system helps the Google algorithm identify and properly classify the type of products that you sell. 
As recommended by Google, you'll want to choose the product category that best describes your product. This way, Google can easily categorize your overall product listings when a user performs a matching search query.
For example, if your business sells women's dresses, use the "dresses" category: Clothing & Accessories > Clothing > Dresses. 
Learn more about Google product category optimization techniques.
5. Choose the correct product type
Another important attribute that contributes to the success of your Google Shopping SEO is selecting the correct product type. Unlike the Google product category, product types are part of the structured data you provide when listing your products on Google Shopping.
Product types make it easier for search engines to crawl and index your product in the appropriate categories. For shoppers, product categorization improves their overall user experience — they can browse through categories to explore what they're looking for, which can lead to higher engagements and, ultimately, conversions.
Tips for properly defining your product type
Understand product hierarchy: Identify and segment your products in terms of categories and subcategories.
Use the > symbol to distinguish between categories: For example, Home page > Shoes > Women's shoes.
Leverage categories similar to Google's taxonomy: Check out the categories offered and choose which is most similar to your product.
Use consistent categories and subcategories for your product listings and landing pages: This makes it easier for Google and humans to navigate your page.
6. Display the best product images
Another important element to consider optimizing are product images, which include all visuals used to display your products.
One of the key components of a good user experience when browsing the web is usability. This means providing access to everyone, including those with disabilities. Using high-quality, optimized images in your product listings enhances the overall web experience of each user who comes across your listings.
Tips for optimizing product images for SEO
Use only high-quality images:

 Shoppers are likely to be drawn to images before text, so it's essential to display your best shots. Make sure the resolution of your images is at a minimum of 1200 pixels, or 72ppi which is the standard for web images.

Avoid text on the images:

 Keep images as is and include product details in the product description section.

Add multiple images:

 Take advantage of Google providing 10 image slots to really show off your products! 

Add alt text:

This copy is displayed in place of an image on a webpage if the image fails to load. It helps screen readers describe images to visually impaired users, and allows search engines to better crawl, index, and rank your website.
7. Use negative keywords
There are three main reasons to use negative keywords in your shopping listings:
reduce advertising costs

direct traffic to the appropriate ads

increase click-through rates
For example, if you sell women's sneakers, your ads may be triggered by shoppers searching for men's sneakers. To help avoid this, you'd exclude the keyword "men's sneakers" so traffic won't be directed to irrelevant customers.
To find unrelated keywords, identify user queries that generate many visits but no transactions, then set them as negative keywords in the keywords tab of your Google Ads account.
 

What are the benefits of Google Shopping?

Let's end with the really good stuff. Google Shopping has 1.2 billion monthly searches, and Google Shopping ads drive more than three-fourths of ecommerce ad spend. With stats like that, you have vast exposure for your products and great potential to rank high in SERPs.

Through great exposure comes growth, and with growth comes sales. For many merchants, Google Shopping Ads are essential to driving brand awareness, outperforming competitors, and generating more sales. Check out the following six benefits that Google Shopping can have on your online business.
Placing your products in the Google Shopping spotlight
Whether you've just launched your online store or you already have an established name, consumers are more likely to purchase your products when your listings appear at the top of SERPs.
They don't need to be familiar with your business beforehand either, since your products will appear anytime Google matches them to the user's search query (i.e., their keywords).
Reducing your business' marketing costs
Since inbound marketing takes time, it has potentially lower returns per lead. When you achieve higher Google rankings driven by organic traffic, you'll cut down on the time and resources it takes to reach a larger pool of leads.
Research shows that Google Shopping Ads generate around 30% higher conversion rates and 52% higher CTR than text ads.
A reason for the greater ROI is because with Google Shopping Ads, you're only paying when a potential customer actually visits your website. You also have total control over your budget to spend as little or as much as you'd like.
Helping you reach more qualified leads
Google Shopping Ads allows customers to see enough relevant information within the ad to help familiarize them with your product before even clicking through to your website.
Details like product price, image and title, brand name, and product star rating all help entice shoppers with intent to purchase to visit your website, thus increasing the quality of your leads.
Once a customer clicks on your ad and lands on your website, since they already know what to expect, they're less likely to leave.
You can expect the user to spend some time on the page, make a purchase, and hopefully become a repeat customer through compelling design, an easy checkout experience, and other attention-grabbing tactics. 
Having a platform that's easy to manage
With text ads, you're required to select and bid on the keywords you want to target. Google Shopping Ads are much simpler as they eliminate the keyword process altogether. Instead, Google decides on the relevant keywords based on your product data feed. 
Once you've set up your Google Shopping Feed in your Google Merchant Center account, the feed will remain updated to ensure your Ads are accurate when displayed on Google SERPs.
Reaching a wider audience
Google Shopping campaigns allow your ads to appear more than once for a single query. Let's say you have an online plant shop and someone searched for "hanging plants." A few of your products may appear: Artificial Pothos Hanging Plant, Hanging Philodendron Bush, and Metal Hanging Planter. 
Since Google is choosing the keywords that correspond with your products, you'll find that your products will begin to show up for related keywords — not just exact matches.
With text ads, you would have had to bid on all these keywords separately, but not with Google Shopping! You're more likely to reach a wider audience regardless of what words they enter into SERPs.
Boosting your business' reputation and authenticity
Your brand image is endorsed through high organic traffic which in turn showcases trust and quality in a product to both existing and potential customers. 
Having a positive brand reputation with high rankings indicates relevance, credibility and trustworthiness — which are key components to maintaining a loyal customer base and attracting more leads. 
The takeaway
Optimizing your Google Shopping for search engines can be challenging. Yet it remains one of the most effective and sustainable methods of driving traffic to your site. And it's a crucial part of reaching a large audience of eager, relevant shoppers.
Incorporating Google Shopping SEO techniques can help improve your site's visibility in organic searches. The result: increasing the conversion, click-through rate, and overall sales of your business.
For consumers who use Google Shopping, they have a simple yet powerful way to discover the products they're looking for at the best price and in one convenient place. By shopping at an online store that has a well-optimized website, they'll also feel more empowered to make better buying decisions. 
So, it's time for you to take advantage of this opportunity and make the most of Google Shopping for your own business.
Looking for more insight on optimizing your website and how to effectively use SEO? We'd love to chat. From tweaking technical SEO to creating valuable and high-quality content, we know what it takes to rise up the ranks.