As an ROI-obsessed digital marketing agency generating millions for our clients, we know a solid CRO agency when we see one.
The top 8 CRO agencies:
So you launched a new site — or want to ramp up your existing website — and the traffic and SERP rankings are rolling in.
Every marketer and biz owner loves to see lead generation at play.
The only problem? You're not seeing conversions. What's the point of all this traffic if it's not converting?
Your search engine optimization (SEO) brings tons of chatter to your blog. And your ad campaigns reach thousands in your dream audience every day.
But you need conversion rate optimization (CRO) to link that exposure to sales. Without a dedicated CRO strategy, you'll keep seeing siloed results that don't move the needle on your business. 
Lean on a trusted CRO agency (we, um, can think of one great one in particular) that prioritizes ROI above all else when launching, managing, and scaling SEM campaigns for our clients. 
Here, we'll walk through the best CRO agencies with stellar reputations for proven results.
Let's dive straight in.
1. HawkSEM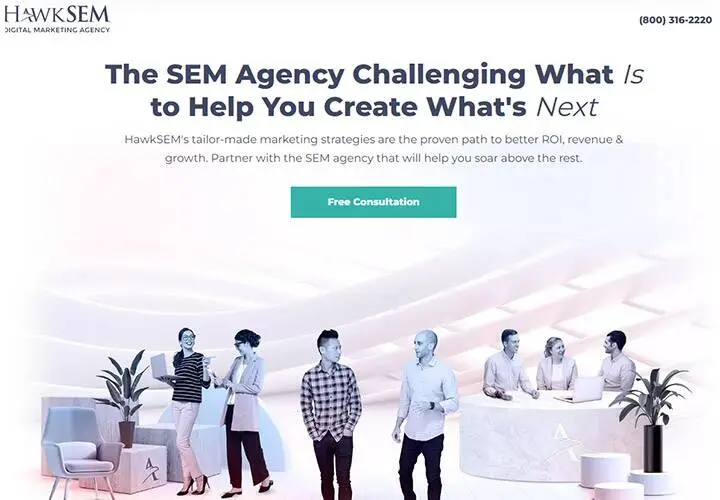 As a full-service digital marketing agency, HawkSEM offers a wide range of services, from SEO and PPC management to paid social marketing and ecommerce campaigns.
But CRO is at the center of every marketing strategy. It's also included in all our PPC management packages. 
Our SEM services help you attract visitors to your site, and our CRO services convert them—two separate areas of expertise that we've perfected over our experienced tenure in the digital marketing space. 
We work quickly, and most importantly, efficiently. We're fully staffed with web designers, communication specialists, and user experience strategists — all with years of knowledge gleaned in their specific marketing niche.
But enough talking. Let's show you how our services translate into incredible ROI and conversions for our clients. 
Glowing client results from our CRO services
We serve clients across the board, from universities and healthcare brands to finance and ecommerce businesses. Just take a look at our case studies.
How does a near-doubled conversion rate sound? That's what we made happen for our educational client, California State University – Northridge.
Our in-depth audience research, ad and web copy testing, and a website audit helped us eliminate their website's non-converting elements and replace them with action-oriented content to drive an 800% increase in conversions. 
The timeline? Under three months. 
Of course, our clients benefit from access to their performance data across all their channels via our proprietary tech, ConversionIQ. 
Paired with our industry knowledge, technical expertise, and human touch, we leverage ConversionIQ's AI functionality to give us the insights we need to deliver high-speed, conversion-rich results. 
Best for: B2B/B2C, ecommerce, SaaS, finance, healthcare, education, and professional services
Services:
Web design

element testing, such as calls to action (CTAs), colors, and imagery

Landing page

design 

Google Analytics

reporting

User session recording

Funnel analysis

Click map tracking

Form interaction and drop-off analysis

Target audience

research

Behavioral analysis (e.g.,

heat mapping

)

Web element optimization

Email marketing

A/B testing

and

multivariate

testing

Change implementation
Clients:
Microsoft

Nike

Verizon Media

Honda Motor Co.
2. Wpromote

Wpromote offers plentiful services under three main umbrellas: paid media, earned and owned media, and digital intelligence — the latter is where CRO falls. 
The company's "Challenger" philosophy (serving clients who disrupt their industries with serious innovation) prioritizes transformative business outcomes powered by laser-sharp attribution, analytics, and competitive research to take every brand to the next level. 
CRO services are closely linked to the company's proprietary tech, Polaris, and its AI-powered insights.
The "Challenger" slogan presents big shoes to fill, but Wpromote backs their claims up. To wit, they've surpassed conversion goals for some of the biggest brand names out there.
Services:
User intent identification and personalization

Mobile-first

web design

services

Page speed optimization 

UX/UI/web page clarity

Full-funnel

CRO audit

Target audience

research

A/B and

multivariate

tests

Change implementation

Content marketing
Best for: Enterprise, multi-million-dollar revenue businesses (especially B2C) in the travel, finance, health, SaaS, and retail niches
Clients:
EQUINOX

Frontier Airlines

Whirlpool

Intuit Quickbooks

Panera Bread
3. Seer Interactive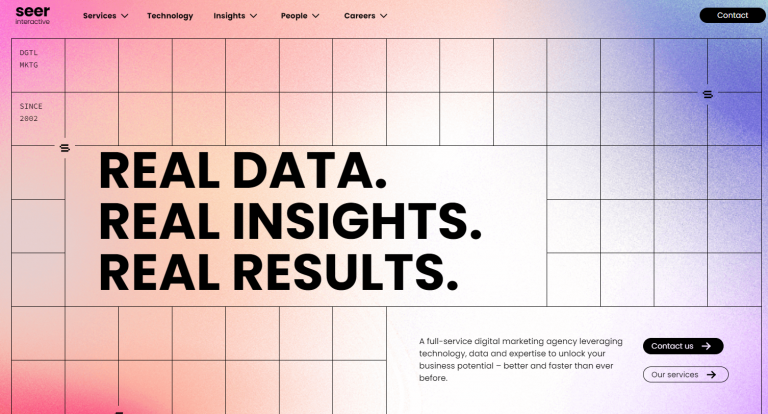 With offices in Philadelphia and San Diego, Seer Interactive's large team focuses their marketing services on paid campaigns and SEO.
The meat and potatoes? Audience research, consumer insights, and market intelligence–they get all the goods on your audience.
Their CRO services include user behavior session recordings, heatmaps, CRO audits, and web design revamps paired with A/B testing to pick the heaviest-hitting combinations for conversions.
And their strategies work.
Seer Interactive helped an ecommerce brand ramp up mobile conversions on the company blog by 156%. Additionally, their collaboration with Outer Banks property management brand Twiddy & Company drove a $1.5 million increase in revenue. 
The latter case was powered by a drilled-down analysis of web elements and subsequent restructuring to help customers access the most essential information. 
Services:
CRO audits

Individual web page optimization

User surveys and customer research

On- and off-page

user behavior

analysis

Optimized

landing pages
Best for: Mid-sized B2C businesses
Clients:
Allianz

Looker

AMResorts

The Casey Foundation
4. The Good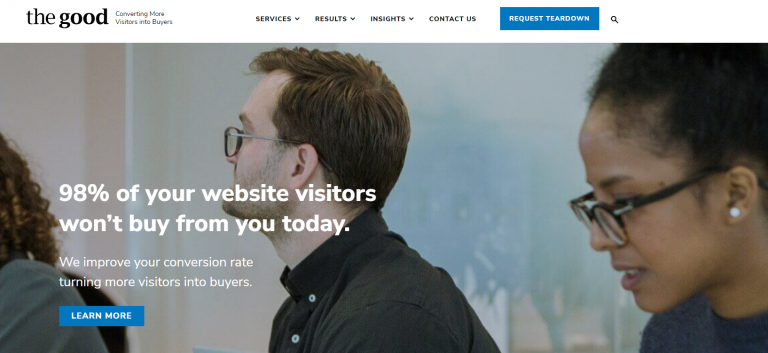 The Good is a dedicated CRO agency, meaning they exclusively focus on conversions. 
With this hyper-focus, they have a devoted staff of web designers, UX strategists, researchers, and developers who provide specialized CRO services, including audits, data-driven web redesign, conversion research, and consulting. 
Plus, they have a proven track record of serious ROI: an average of 9:1, in fact. That's something we can get behind as a fellow results-driven agency. 
The Good's strategy involves discovery and user research through customer surveys, behavior analysis, and journey mapping.
They follow that up with an actionable game plan that could include web redesign and user experience optimization, as well as one-on-one coaching to help brands maintain results.
They've even demonstrated conversion optimization success for subscription newspapers like the Economist and the Telegraph. Talk about raising your bottom line.
Services:
Customer journey mapping

A/B and

multivariate

testing

Wireframes

Web design

, including branded design

Full road-mapping

Multi-device funnel evaluation

Data analysis

Conversion coaching
Best for: Large B2C businesses with a minimum $30,000 budget for CRO
Clients:
Xerox

Adobe

Easton Baseball

The Economist
5. GrowthHit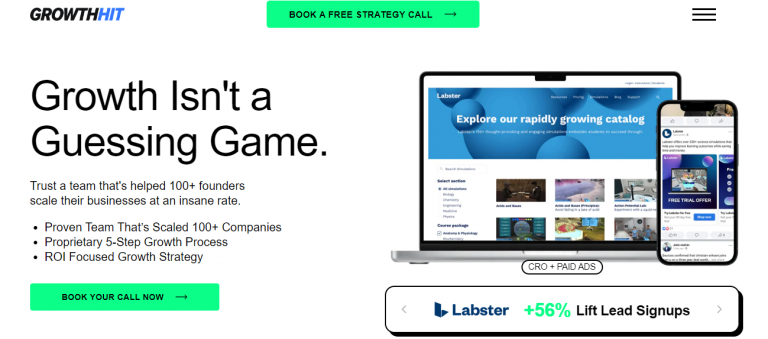 Ever been left hung out to dry by an agency partner? Unfortunately, many marketers can relate.
The agency might have had too much on their plate. You won't have to worry about this happening with boutique agency GrowthHit. 
They have a tight-knit team and won't take on more than six clients at a time. This might make getting on their books tougher, but your patience pays off with personalized service and attention for your growth strategy.
This agency has a step-by-step CRO process they follow for every client: customer-centric strategy, data-driven research, ROI-focused growth plan, and iterative growth tests. Plus, they offer tested-and-proven templates for various ad platforms and landing pages.
We commend their creativity regarding audience engagement for ecommerce conversions, like a gamification tactic that prompted a 13% increase in checkouts and higher average order values (AOV) for an ecommerce brand. 
Services:
Strategic customer offerings

Gamification

Personalization

Web Redesign

Performance-based

analytics

A/B testing
Best for: Smaller businesses that want a boutique experience at an affordable price; startups looking to hit their first $1 million in revenue
Clients:
Labster

Kreyol Essence

Universal Standard

Quench by Culligan
6. Inflow

Inflow offers SEO, PPC, and CRO services to ecommerce websites across almost every niche. They're huge on customer relationships, even helping one brand CEO with conversion and marketing goals after he moved on to a new company.  
Camera reseller KEH Camera saw a whopping 413% revenue increase after engaging with Inflow. The ROI-rich combination included traffic segmentation, rebranded creative assets, funnel analysis, and retargeting. 
Similarly, they helped another more niche camera ecommerce brand see a 20% conversion increase after a few tweaks and restructuring to their web elements. 
Now that's what we call sharpening your lens!
Services:
Site speed improvements

One-time tests

CRO audits

Retargeting strategy

Paid social 

Full funnel analysis
Best for: Ecommerce brands in the health, pet, B2B, travel, beauty, and home niches
Clients:
Shore Excursions Group

SIMMS Fishing

ATRANTIL

Aviator Gear
7. Silverback Strategies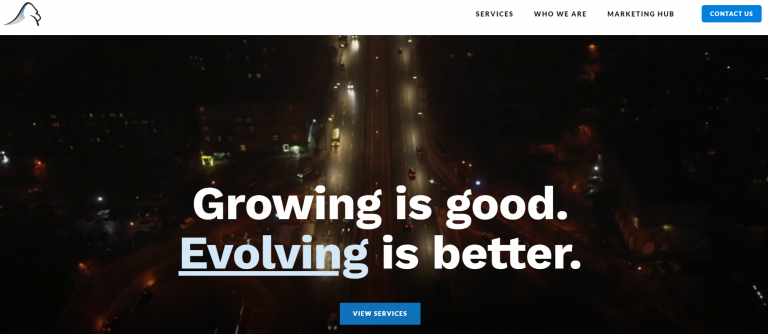 Silverback Strategies calls out to brands specifically seeing high traffic and conversion rates under 1%. Their methodology? A four-pronged process that links business goals to conversion performance and marketing objectives. 
After launching optimization strategies informed by audience personas and A/B testing, Silverback's analytics team powers continuous feedback loops to stay on top of KPIs and keep ROI flowing.
Clients include reputable B2B brands in finance, travel, legal, educational institutions, and ecommerce. 
If a CRO agency can deliver a 300% YoY revenue increase to The Ritz-Carlton post-COVID, imagine what they can do for your brand. 
Services:
User flow funnel testing

Competitive analysis

Audience research

Web redesign
Best for: B2B brands end educational institutions
Clients:
LexisNexis

FiscalNote

Oregon State University

Cornell University
8. Social
SEO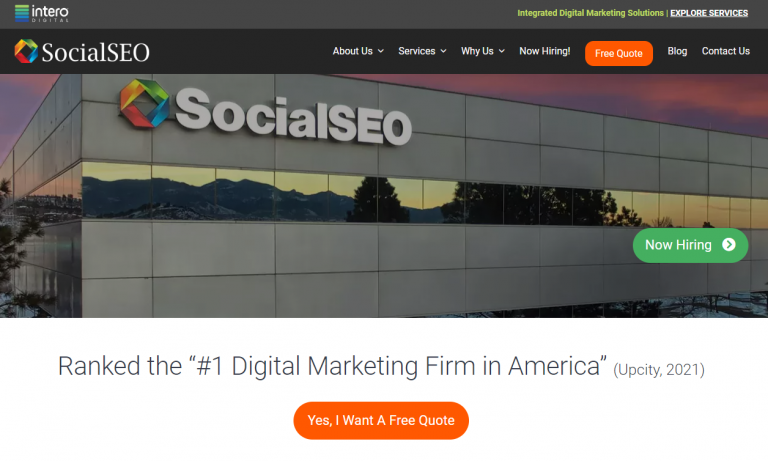 As a company that's experienced 1,000% growth in the last five years, Social SEO has two legs to tower on when it comes to CRO.
Seriously, the CEO started with a shoestring budget, and now the company employs more than 100 SEO and SEM strategists. 
They serve a wide range of niches, from B2C brands like upscale car companies to smaller professional service companies like Boulder Marriage Counseling. 
And don't let their name mislead you. Social media marketing isn't the only highlight on their resume. Social SEO fronts an impressive list of accolades received across various marketing specialties, such as earning Top PPC Agency in Upcity's roundup or a place on Clutch's best B2B companies list. 
While they provide a wide range of marketing services like paid social and SEO, their CRO service is fashioned after the scientific method. They pose hypotheses and prioritize testing and discovery to unlock innovative results. 
Services:
SEO

and

CRO audit

Audience analysis

UX audit

Sales funnel analysis

Split testing
Best for: Large and small businesses (B2C)
Clients:
National Strength & Conditioning Association

Land Rover

GAIAM

Don Julio
What is a CRO agency?
A conversion rate optimization agency is a digital marketing agency that conducts a wide range of marketing efforts to improve a brand's ad and website conversion rate.
This might include website design and optimization, content creation, ad copy and messaging, A/B testing for particular web elements, conversion audits, audience research, and UX design.
The goal? Move from customer awareness to customer acquisition. 
Still, most CRO agencies offer CRO services along with other digital marketing tactics like SEO and PPC, though they're often linked to a broader strategy. 
The best CRO companies have a staff with diverse expertise in web design, web analytics, search engine marketing, communication strategy, and writing. 
Why do you need a CRO agency?
Digital marketing is a vast field, and CRO is just one group of tactics to drive sales, conversions, and ROI. But even if you have an in-house marketer with SEO and PPC experience, they might not be conversion rate experts. 
Do they have the knowledge and experience to conduct the right types of A/B tests and flag important details to effectively optimize your conversions? If the answer is anything but a resounding yes, a CRO agency is a smart next step.
But what if your marketing manager does have CRO experience? Here's the thing: it's tremendously time-consuming. 
A simple crunch of the numbers would justify your CRO agencies based on a few key factors.
First, consider the labor hours and investment into performance analysis software.

Also look at the legwork required for customer journey mapping, audience research, and surveys.

And of course, there's the web development expertise necessary for optimal website UX that appeals to new visitors.
A CRO agency is ROI-focused, so they'll usually generate a return for every dollar you spend on their services.
This is also an essential component of any PPC or SEO strategy because gaining website visitors is only half of your marketing battle. Once you have their attention, you'll still need to convert them.
The takeaway 
Sure, you could spend hours kneading dough for pasta and trying out cacio e pepe recipes. Or you can save yourself the trouble and go to the best Italian restaurant in town.
Think of CRO agencies like the Italian mom-and-pop restaurants in NYC that have been making the same dishes for decades.
Bottom line? You just won't get the same pasta (conversions) if you try to do it on your own. Nor will you see an average of 4.5X ROI like our clients do here at HawkSEM. 
Engaging CRO experts gives you access to our dedicated team of copywriting wizzes, designers, and marketing strategists who work tirelessly to monitor metrics and optimize your conversions and ROI. 
Today's brand marketer is simply too busy to come close to that kind of attention. 
Ready to say hello to better CRO? Let's chat about how we can convert those web visitors together. 
FAQs about CRO agencies
How much does a CRO agency cost?
CRO agencies vary in pricing, though most charge a monthly retainer with set services priced anywhere between $2,000 to $10,000 and up per month. 
How long does it take to see results?
Expect to wait at least 3-6 months for initial results, and up to a year for more sustainable results. 
The A/B testing and performance analysis required to optimize conversion rates can take months, as agencies need to tweak and tailor a CRO strategy for each brand.
How do I choose the best CRO agency?
When it comes to CRO agencies, look at the types of industries each one's clients are in. Then, assess their annual revenue and overall company size. Sound like your business? That's a great start. 
Once you verify a CRO agency has experience delivering results for brands with similar challenges to yours, you can analyze the agency's suitability further based on customer review sites, industry reputation, and staff qualifications.