Spotting a content strategy superstar takes a trained eye. Since we've unleashed millions in ROI for our clients with killer content, we've got 20/20 vision on these leading content strategy agencies.
Here, you'll find:
The best content strategy agencies

Which agencies are right for your biz

Each agency's specialties and capabilities

How to know when it's time to partner with an agency
HawkSEM

The SEM Agency Challenging What Is to Help You Create What's Next

Siege Media

Helping great brands scale with SEO-focused content marketing

Growth Machine

Delivering more customers with laser-focused content marketing

Wpromote

Turning challengers into champions

Services

Search Engine Marketing (SEM)

SEO 

Content strategy and content production

Ecommerce Marketing

Remarketing

Landing page optimization

Content creation

Copywriting

Content marketing

SEO

Content strategy

Link building

Copywriting

SEO consulting

Digital PR

Content creation

Blog design

Graphic design

Managed content (planning, writing, and publishing)

Content strategy

Link building

SEO audits

Writer sourcing

SEO courses

Placement services

SEO

Content strategy

Content marketing

Email marketing

Influencer marketing

Voice search

Video marketing

Digital experience

Reporting and data visualization

Data science and insights

Affiliate marketing

Best For
B2B/B2C, ecommerce, SaaS, finance, healthcare, education, professional services
Mid-level to enterprise SaaS, Fintech, and ecommerce brands
Fortune 500s, startups, and tech clients
Retail, business services, hospitality, medical, and informational tech disruptors
Rating

4.9

4.9

5.0

4.5
A bulletproof content strategy puts audience appeal, conversion goals, and brand differentiators behind your content.
But if you want to keep your strategy fresh, relevant, and on-budget? You might consider hiring a content strategy agency.
Of course, you don't just want any agency — you want the right agency for you. We'll cover the leading content strategy agencies in this guide, including case studies, recognizable clients, and insights into which ones are best for certain industries.
Ready to get going with a content strategy that drives ROI? Then keep reading. 
Top 9 content strategy agencies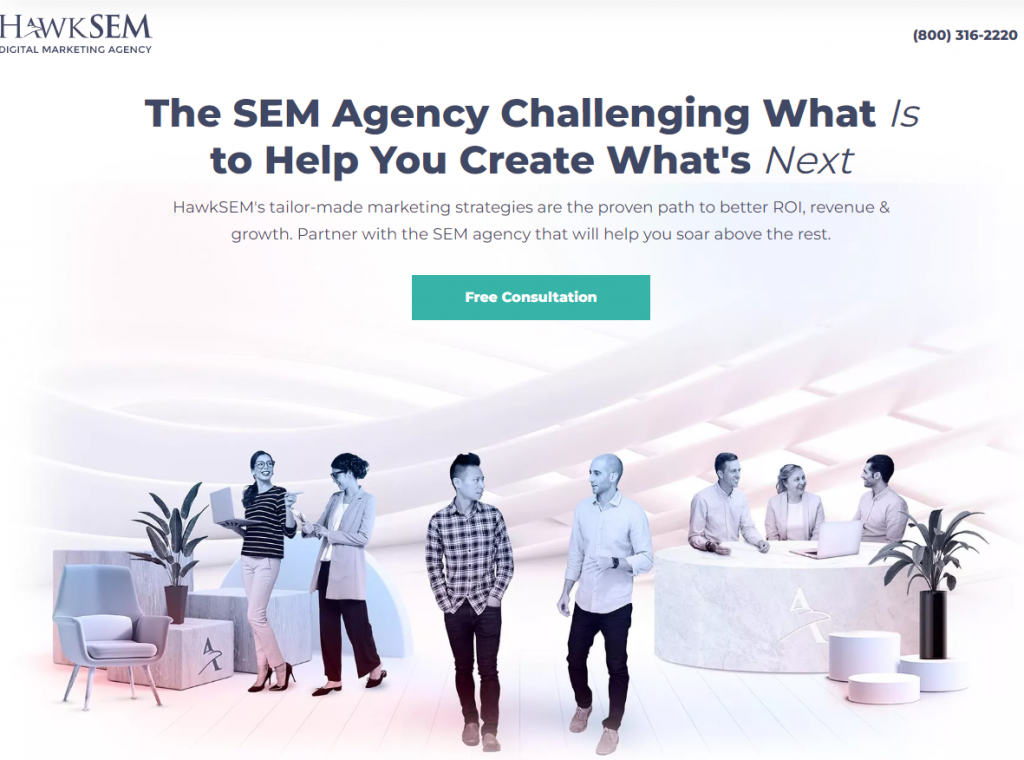 At HawkSEM, results are our MO. And that's why we approach every project with content strategy first. Our decades of expertise and combined experience as a full-service marketing agency across various niches have shown us that great content isn't enough to generate massive ROI. 
It must first be anchored by a strategy that puts your ideal audience front row center.
As a top 3% SEM agency specializing in organic and paid marketing, we've partnered with businesses in a broad swath of niches, including B2B, B2C, tech, SaaS, healthcare, finance, education, ecommerce, and more.
If you want to create an online presence that generates an average of 4.5X ROI, you can depend on us to build the best strategy to help you get there.
Content strategy in action
When emission-free gas handling product and service provider DILO came to us, they had just seen significant dips in organic traffic and keyword rankings after a site redesign.
After doing extensive content audits, we quickly observed some major areas of improvement with their search engine optimization (SEO), specifically both technical SEO and on-page SEO. 
Together with their team, we re-optimized existing content and rolled out new optimized content targeting specific keywords and meta tags leveraging our in-house tech, ConversionIQ.
Equipped with a data-driven content strategy complete with topic ideas revolving around these new targeted keywords, we helped Dilo reinstate their presence in the industry and establish themselves once again as thought-leaders.
The results? A 36% increase in organic clicks in just six months and a 46% increase in Google impressions in just three months. Not to mention a 24% increase in Google clicks for these new high-value keywords.
And that's just from one project. We've helped countless brands achieve similar results by building laser sharp content strategies from the ground up. It's kind of our jam. Just check out more of our results.
Best for: B2B/B2C, ecommerce, SaaS, finance, healthcare, education, professional services
Services offered:
Search Engine Marketing (SEM)

SEO 

Content strategy and content production

Ecommerce Marketing

Remarketing

Landing page optimization

Content creation

Copywriting
Clients:
Honda Motor Co.

DIRECTV

Microsoft

ThriftBooks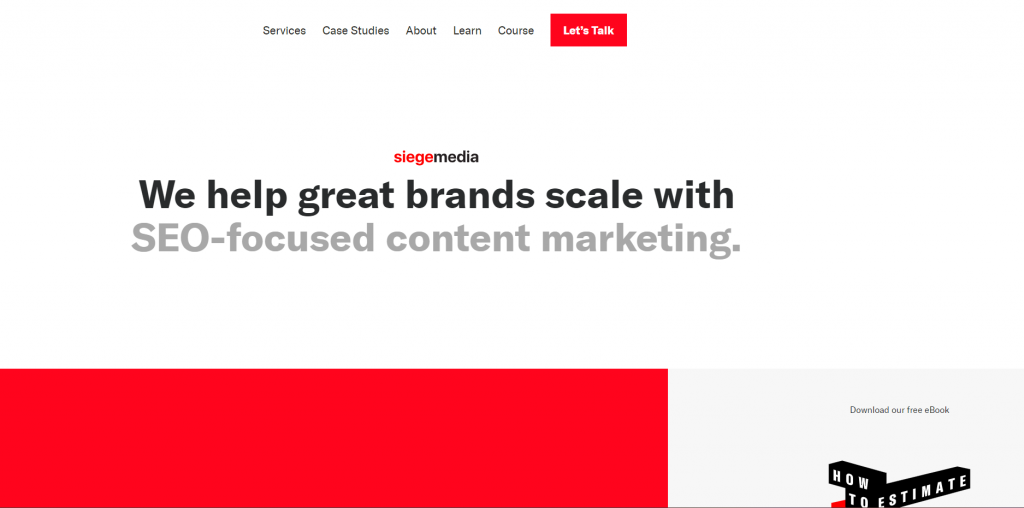 Content is crucial to SEO, Because of this, you simply can't create a content strategy without keyword research and competitor analysis. That's precisely why Siege Media lands a spot on our list of the best content strategy agencies.
They offer your standard SEO and content strategy services. But extending the digital reach of both of those marketing arms are their link-building, graphic design services, and reporting and analytics. Meaning? From start to finish, ideation to details to monitoring, they're with you every step of the way.
By harnessing the talent of their gifted strategists combined with innovative tech, Siege Media offers a dynamic solution for your content strategy needs. Which is why some of the world's more recognizable brands trust them, including Zillow, Airbnb, Adidas, HubSpot, and Asana, to name a few.
We're firm believers that a content strategy agency should exhibit a commendable strategy for their own business, and visiting Siege Media's website does just that: from the juicy insights on their content marketing blog to their lead-gen ebooks, and impressive case studies, Siege Media shows us that the proof is in the pudding.
Best for: Mid-level to enterprise SaaS, Fintech, ecommerce brands
Services offered:
Content marketing

SEO

Content strategy

Link building

Copywriting

SEO consulting

Digital PR

Content creation

Blog design

Graphic design
Clients:
HubSpot

Asana

Zapier

Shutterfly
Organic inbound marketing targets customers at the education stage of the funnel. We're talking authoritative and educational blog content, podcasts, infographics, landing pages, video content, and press releases.
These mediums educate your target audience on common questions they have so they feel confident about choosing you as their solution. 
And that's why we recommend Growth Machine, an SEO content creation agency that steps up to the plate to catch your potential customers while their first researching topics related to your brand. 
Managed content is their specialty, and they help their clients strategize, craft, and share optimized blog content that raises you through the search engine ranks.
That's how they helped their client, Ridester, achieve 282,000 weekly organic visitors, and Tovala boost organic blog traffic by 552%.
Growth Machine's track record proves that this agency does exactly what it promises: get the engine running on your content strategy.
Best for: Fortune 500s, startups, tech clients
Services offered:
Managed content (planning, writing, and publishing)

Content strategy

Link building

SEO audits

Writer sourcing

SEO courses

Placement services
Clients:
Adobe

Yummly

Four Sigmatic

Tovala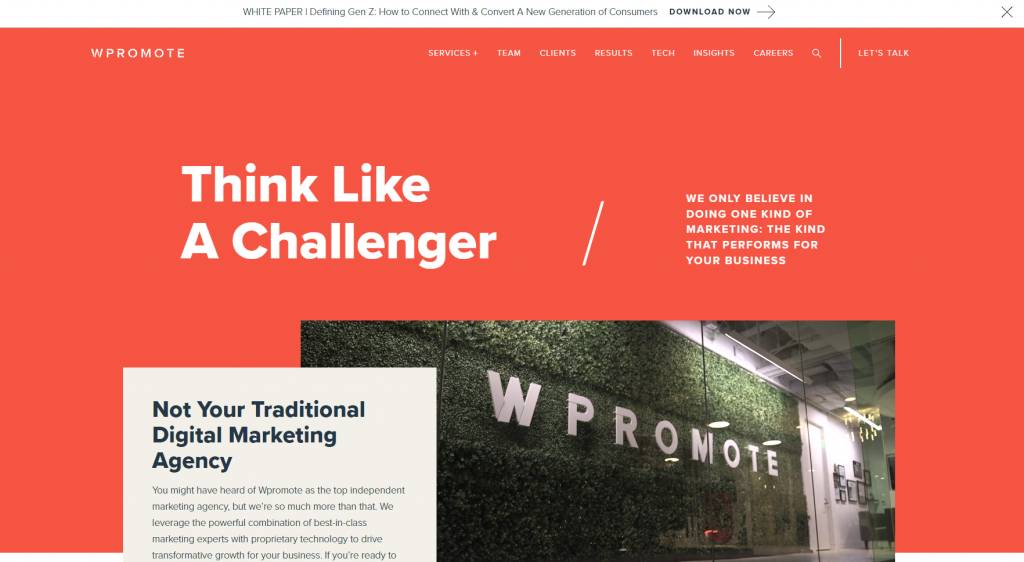 Wpromote doesn't shy away from complex marketing challenges, it runs toward them armed with strategy, marketing, and creative-owned media. They help you build a content strategy funded by an evergreen, authoritative, and rich content bank.
And this is why they consistently rack up accolades and awards from the likes of Google, Adweek, Search Engine Land, Inc., and more.
Not surprisingly, Wpromote takes a data-driven approach to creating comprehensive content strategies for their clients. Instead of using the same old KPIs, they zero in on impact, asking the important question of how results actually affect your business.
And they're not afraid to challenge their clients to think bigger, smarter, and dive deeper. Because they're not in the game of the mundane, which is why they work with big-vision enterprises like Samsung, Equinox, and Peacock.
Are you an innovative brand on the bleeding edge of your industry, pushing the envelope and reimagining your niche? Then you should talk to Wpromote. They'll get in the creative ring with you.
Best for: Retail, business services, hospitality, medical, informational tech disruptors (or as Wpromote calls them, "Challengers.")
Services offered:
SEO

Content strategy

Content marketing

Email marketing

Influencer marketing

Voice search

Video marketing

Digital experience

Reporting and data visualization

Data science and insights

Affiliate marketing
Clients: 
Adobe

Intuit Quickbooks

Instacart

Strava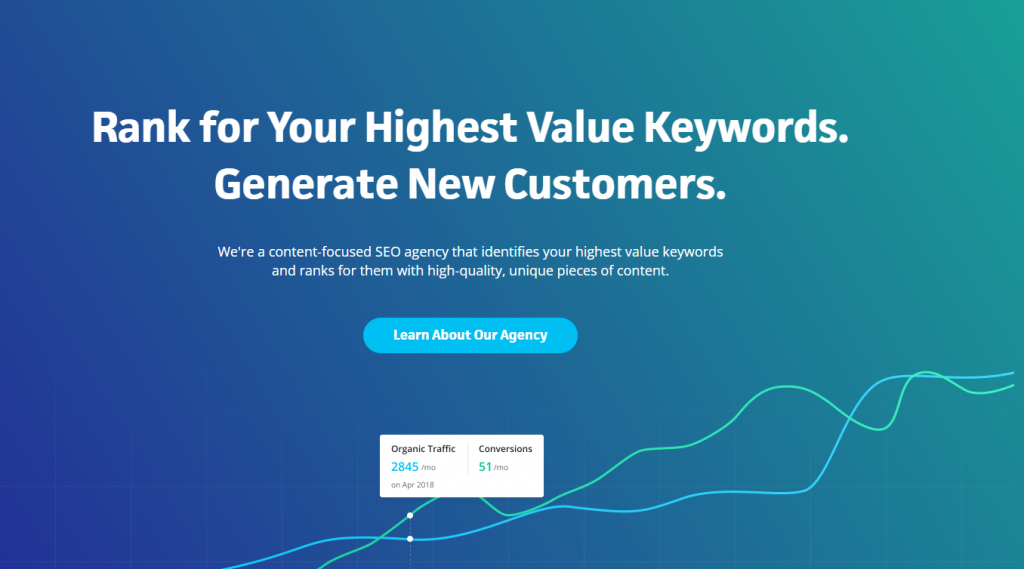 Grow & Convert offers specialized content services and pay-per-click advertising (PPC) — a nice plus if you're looking to hone in on your content creation and strategy. While traffic is a natural result of their in-depth keyword research, it's not their main motivation: leads and sales are. 
That's why they dived deep into their client Geekbot's top-funnel and bottom-funnel content to understand the benefits of each. While bottom-funnel content converted more often, both types of content led to a whopping 1,300 new leads for the client. 
Yes: Grow & Convert delivers on its moniker.
And to create lead-generating content, they conduct comprehensive interviews with your staff to know your offerings inside out. Then, they focus content on your brand's differentiators, features, and unique benefits. 
Their content strategy and service pricing averages around $10k per month. But they still serve smaller businesses with a comprehensive course that covers their process if they can't afford the entire service — huge points for accessibility.
Best for: SaaS brands
Services offered:
Content strategy

Keyword research

Content creation

Link building

Conversion data reports
Clients:
Geekbot

Rainforest

Circuit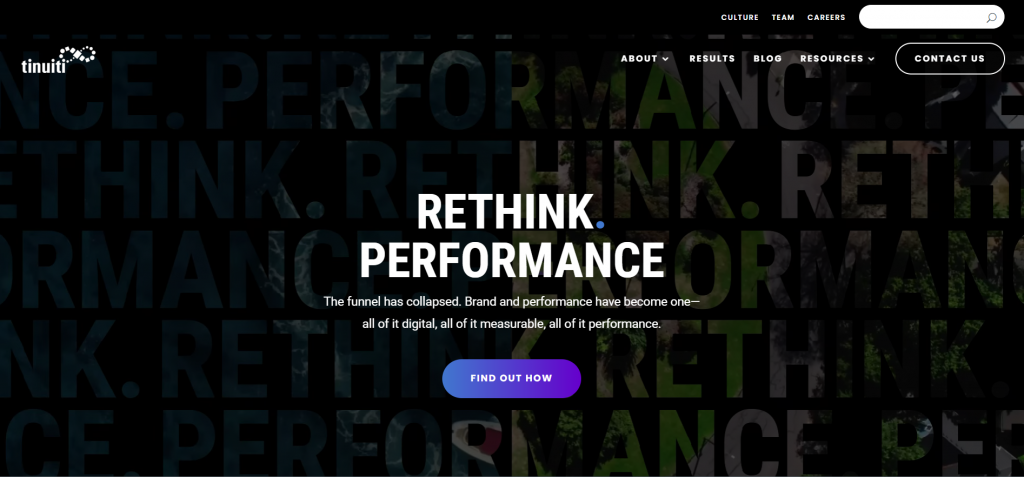 Tinuiti bases their services on relationships and performance; a great precursor to a successful content strategy. They offer a wide range of content and digital marketing services, from paid media and streaming campaigns to meticulous SEO content strategies. 
This content strategy agency shines in the SEO world as a contributor to Search Engine Land and Semrush, and recipient of accolades and status like Google Premier Partner and Microsoft Advertising Partner of the Year. 
Along with designers, writers, and content strategists, Tinuiti is backed by three novel performance marketing software products to give clients an edge in figuring out a data-driven next move. 
But don't take their word for it. Tunuiti has ample case studies to back up their excellence, like this insane 1,143% increase in keyword rankings for their client DFIN. 
The kicker? An SEO content strategy that covers optimized web pages, keyword research, and a poppin' blog. 
Best for: Ecommerce brands, streaming services
Services offered:
SEO

Content strategy

Video production

Ecommerce pages

App store optimization

Streaming TV content

Blog article writing 

Social media marketing

Paid media

Influencer marketing
Clients:
Etsy

E.l.f. Cosmetics

Ethan Allen

Nestle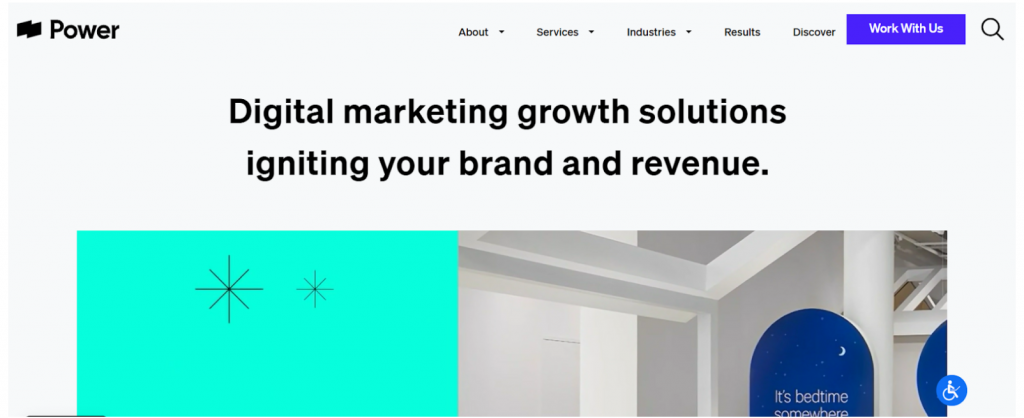 Inform, connect, and entertain: these are Power's goals for all the content they create, and we're here for it. And while we know the power of a kickass blog, Power doesn't stop there in their content services. 
They read the memo on interactive content's ability to engage audiences and differentiate from competitors. We're talking "snackable" calculators, quizzes, and assessments to help customers connect with your brand — such a fantastic way to learn more about your audience, too. 
Demand Metric's Buyer Journey Report shares that revenue-generating companies are more likely to produce interactive content than revenue-stagnant ones. 
And to pull everything together, Power uses their roster of design experts to create visually striking and insightful infographics to bring your message home. 
With support from stellar copywriters and Power's proprietary tech Nova for data insights for strategy, this agency committed two years to creating unique SEO blog content for beauty powerhouse Kate Sommerville. 
From interview Q&As and roundups to resonating beauty tips, their blog ranks for 9,000 non-branded keywords and brings in about 15,000 new organic visitors every month. 
Best for: Beauty, B2B & B2C, ecommerce, fashion, private equity
Services offered:
SEO

Content marketing

Paid media

Amazon marketing

Web design

Influencer marketing

Branding

Blog post creation

Interactive content

Design elements and infographics
Clients:
Lord & Taylor

Aviator Nation

Casper

San Diego Housing Commission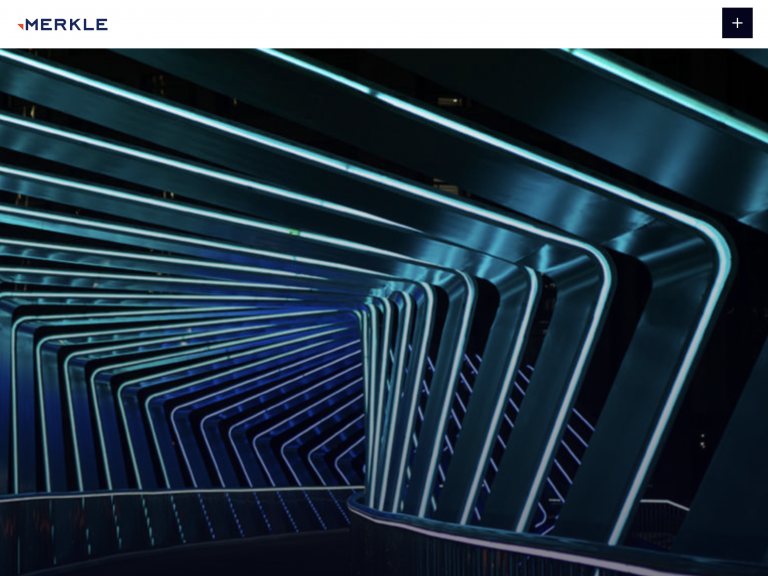 Merkle has 30 years of expertise in digital marketing, and they pride themselves on producing an elevated customer experience informed by insights from their suite of proprietary tech. 
From web visitor identification to ecommerce customer activity repositories, Merkle makes data the forefront of any content strategy they implement. 
And once they have the data? It's time for the "Activation" stage, which means taking content creation to the next degree. 
For example, Merkle enhanced Crocs' user experience with an interactive tool to help customers select emojis, letters, characters, and symbols to visualize charms for their Crocs shoes. 
They also supported Swiss supermarket Migros with advanced filtration capabilities, easy search functionality, and attractive data visualizations on their website to engage customers. 
If you're an established brand looking to seriously scale, Merkle has the juice to do it with cutting-edge tech and multi-channel strategies for groundbreaking content experiences. 
Best for: B2B, tech, SaaS, retail, telecom
Services offered:
Consulting and transformation

Customer experience

Activation (content and campaign launch and management)

Analytics and data platforms

Data and identity

B2B
Clients:
Siemens

Kuka

SDC

Migros

Subway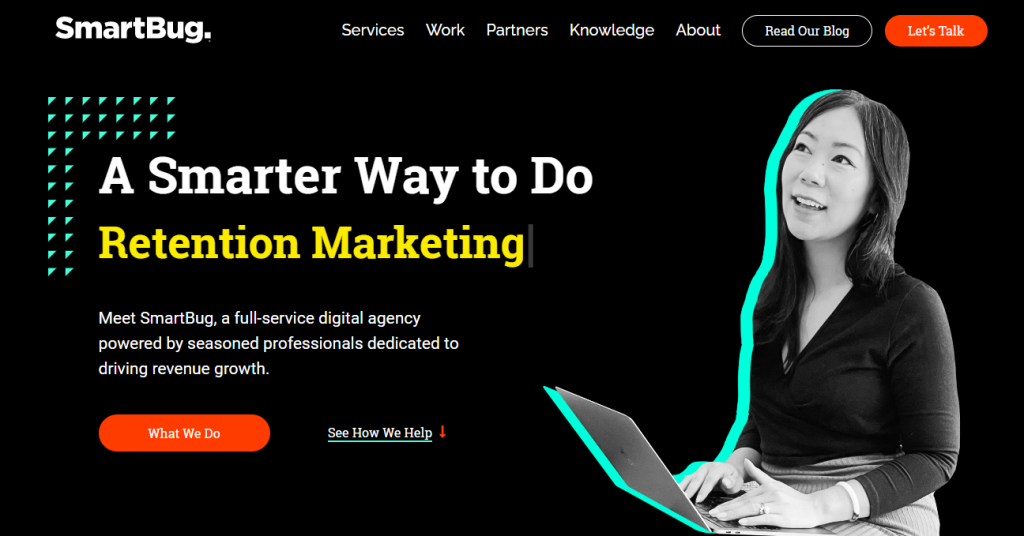 How do you brainstorm ideas for your content calendar? Every marketer can get their creative juices flowing, but SmartBug Media reminds us of the most important thing that informs every piece of content: audience interest and intent. 
They conduct extensive research on your audience before they get to work on your content strategy, which includes social media posts, email newsletters, blog articles, and product pages for the ecommerce businesses in the house. 
Just check out their knowledge center for content examples, chock-full of inspiring, unique content on relevant topics and goals, from ecommerce sales development blog articles to marketing platform ebooks and webinars. 
And if you're in a tech space, no problem. This agency helped technical SaaS brand TestMonitor see 302% more blog traffic with 100 brand new articles developed with targeted client personas and keywords in mind. 
SmartBug also has HubSpot's stamp of approval for inbound marketing prowess, including accolades like Partner of the Year and Elite Partner status. 
Best for: SaaS, healthcare, ecommerce, manufacturing, nonprofits, education, senior living niches
Services offered:
SEO

Web design

Link building

Local promotion and SEO

Content writing and strategy

Content calendar creation and management

Hubspot training and migration

Creative services and branding
Clients:
First State Community Bank

Valutrades

APP Manufacturing

STUDIOPMG

Habitat for Humanity
We've covered the best of the best, but are you still unclear on what an agency is, or the benefits of working with one? It's a lot to digest, so let's expand on that a bit more.
What is a content strategy agency?
A content strategy agency is a digital marketing agency that offers content creation as a specialized service, often under the umbrella of SEO. 
These agencies have professional writers, designers, strategists, and marketing experts that audit your existing content assets, analyze your audience and competitors, and create a strategy that encompasses content types tailored to various stages of the funnel, including education, consideration, and conversion. 
This content might look like blog articles, social media posts, ebooks, podcasts, video content, whitepapers, interview Q&As, and webinars. But no matter the content type or topic, content strategy agencies ensure every piece of content you publish is aligned with your brand voice, message, and audience's needs and interests.
Unlike regular in-house writers and creators, a content strategy agency has years of experience working on content strategies for various businesses. And if you resemble one of the businesses they've had as a past client, they're even more likely to create a content strategy that converts your audience.
Why do you need a content strategy agency?
Can't you just wing your content strategy solo? You could, but the last thing you want is siloed efforts that lack cohesion and send mixed signals. This is the throw-things-at-the-wall-and-see-what-sticks method, and doing so will create a mixed bag of results, or worse, no results at all.
You might have an entire marketing team on your payroll — writers, designers, PR professionals, SEO strategists — yet your content isn't slaying the search engine results pages (SERPs) or converting your audience. Or maybe your writers just don't have the bandwidth to produce enough content for Google to take notice. 
And even if you have a content strategy in the books, that doesn't mean it's a great one. 
Which web pages aren't converting and why? Does your blog rank for high-intent keywords? Your team may be too busy in the day-to-day to do a deep dive into analytics. 
Often, brands can't dedicate the necessary time and energy required to create, launch, and manage a content strategy with the right insights and techniques. 
That's where a content strategy agency comes in.
They're staffed with content experts that can dedicate time to:
Analyze and audit your existing content strategy and assets

Brainstorm content topics that differentiate you from competitors

Write and create all that content fast enough to meet your content calendar schedule

Monitor performance metrics to see what content converts and why (and vice versa)

Update your content strategy with changing audience specs and competitor landscapes
And they can often do it cheaper than the cost of hiring more in-house staff. 
How to know when to hire a content strategy agency
Do any of the following ring true for you?
Your existing marketing staff is overwhelmed with work and can't dedicate enough time to create high-quality content

Your content assets feel disjointed

Web traffic, SERP and keyword rankings, and conversions are decreasing

Your audience isn't engaging with your content
All of the above are signs indicating your content strategy isn't quite hitting the mark. Hey, it happens.
And if you don't have the time to fix it? 
Well, your ROI might suffer. But there is a solution and that's to hire a qualified content strategy agency with proven expertise in generating serious results. 
FAQs about content strategy agencies
How much does a content strategy agency cost?
You can expect to spend $3,000 to $15,000 per month to engage a content strategy agency. Costs will vary depending on your content goals, deliverables and competitor considerations
How long does it take to see results?
A content strategy agency will need a minimum 3 months to audit your content, create a new strategy, test different content assets, and generate conversions with your new strategy. And for best results? You'll need to engage an agency longer-term to see substantial SERP growth and thought leadership recognition, usually between 1-3 years. 
How do I choose the best option for me?
Look at customer testimonials and reviews, case studies, and agency reputation to determine the best option. Your goal is to pick a content strategy agency that has direct experience demonstrating the kind of results you desire for brands with similar profiles as yours in terms of niche and size. 
The takeaway
Americans spend an average of seven hours daily consuming digital content. Yes — your audience is in there, too. And if you want to be the brand your audience stops scrolling for? 
You'll need a robust content strategy that appeals to Google's crawlers and puts your brand on the SERPs. The right strategy will speak to your audience's direct interests and needs, and reflect your brand message across every word, image, and content piece. 
Plus, you'll need eyes on key performance metrics to keep improving your strategy. 
A content strategy agency gives you all of that, plus expert insights from all the other content strategies they've created for their clients. 
Here at HawkSEM, we employ writers, SEO experts, and designers with decades of combined experience supporting brands across various niches. And while every project is unique to each brand's goals, our devotion to getting them to those goals quickly and efficiently is unwavering.
Whether you're a retail ecommerce brand looking to engage a fashion forward audience, or SaaS solution craving engaging, interactive articles for your audience — we've got you covered. 
Ready for your audience to gush over your content? Reach out today so we can talk about building the best content strategy for your business.