Ready to hand off your paid search efforts to the pros? Use this list to find the right paid search agency to improve your campaigns, ROI, and overall revenue.
Here, you'll find:
A list of the top

paid search

agencies worth exploring

Highlights from each of these

digital marketing agencies

Advantages of hiring an agency to manage your

Google Ads (formerly Google Adwords)

How to choose a paid search agency
HawkSEM

The SEM Agency Challenging What Is to Help You Create What's Next

Jellyfish

Your platform to perform

3Q/DEPT

Pioneering tech and marketing to help brands stay ahead

Wpromote

Award-winning digital marketing agency with offices across the United States

Services

Paid search
Paid social
Conversion rate optimization (CRO)
Search engine optimization (SEO)
Content strategy and creation

Creative
Media
Partner Technology
Data
Strategy
Training

Paid Search
Paid Social
SEO
CRO
Programmatic
CTV / OTT
Ecommerce / Marketplaces

Paid Search
Paid Social
SEO
Content Marketing
Programmatic
Email Marketing
CRO

Best For
B2B, B2C, Ecommerce, SaaS, Finance, Healthcare, Education, Professional services
Larger enterprise brands
National lead generation and Ecommerce businesses
Small businesses and Medium enterprise companies
Rating

4.9

4.8

4.8

4.5
Let's cut to the chase.
You're looking for an experienced, capable paid search agency to boost your return on investment (ROI). 
And you're not alone. Google reportedly generated over 69 billion dollars in the second quarter of 2022. Suffice to say, businesses are investing in Google Ads — and they're investing now more than ever.
This article will offer expert insight into why brands should invest in Google Ads and provide a deep dive into twelve of the best paid search agencies to help you ensure your pay-per-click (also called PPC or paid search) campaigns are targeted, optimized, and achieving the maximum return on ad spend. You'll also learn how to choose the right agency for your needs. 
But first, let's get to the list:
Top 12 Paid Search Agencies
Why invest in Google Ads?
"Google Ads are a massive opportunity for […] brands looking to diversify their marketing spend," says Alexa Kilroy, head of brand at ecommerce operating system Triple Whale.
"With the decreased efficacy of on-platform retargeting, many brands are leveraging Google's brand search and display advertising in order to capture folks outside of the paid social platforms." 
Kilroy adds that even creating a dedicated retargeting funnel for brand search terms can show a killer return on ad spend (ROAS), with some brands seeing 12 times their ROAS with these ads. This is just one great example of why investing in Google Ads is more relevant now than ever. 
Top 12 Google Ad agencies to consider
Once you've decided to partner with an agency, the journey is just beginning. Now, you've got to research your roster of Google Ads agencies to see which one aligns with your goals, communication style, budget, industry, and more. 
Luckily, we've done a lot of the heavy lifting for you. We've taken our years of paid search knowledge and gathered some of the best names in the biz. Below is a rundown of twelve outstanding Google Ads agencies worth considering. 
Read on to find out who these agencies are, what they specialize in, what customers are saying about them, clients they have, and their impressive results.
HawkSEM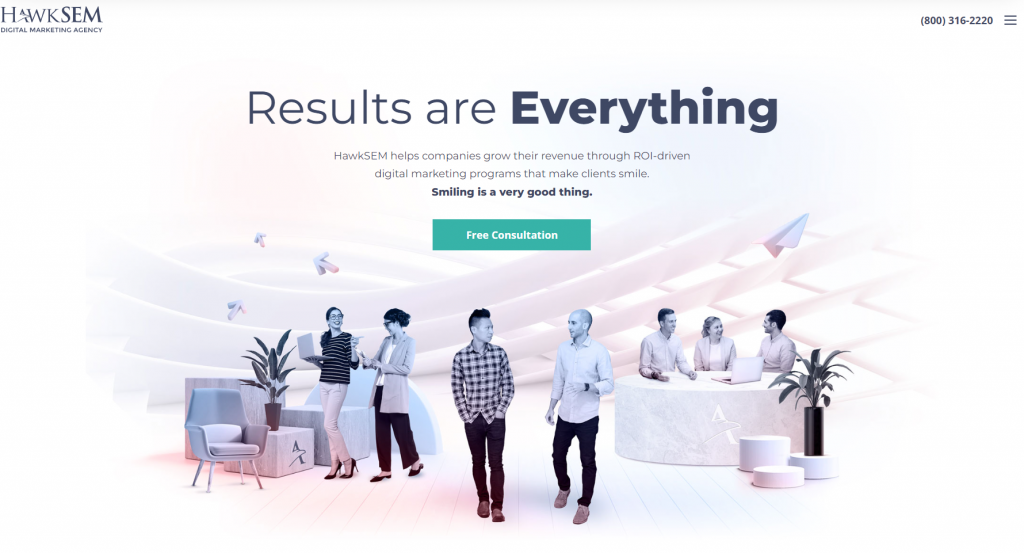 HawkSEM (yes, that'd be us) is a full-service digital marketing agency based in Los Angeles that specializes in providing high-value conversions through Google Ads, LinkedIn Ads, Facebook Ads, Microsoft Ads, and Amazon Ads. 
Along with paid search, we also offer a handful of other digital marketing services, such as display ads, email marketing, paid social, conversion rate optimization (CRO), content strategy and creation, search engine optimization (SEO), and more. 
Not only is HawkSEM a top 3% Google Premier Partner, but we're also a Microsoft Advertising Partner, and a Meta Business Partner. And since we love data so much around here, we'll let the numbers speak for themselves. HawkSEM has a:
98% client retention rate

4.5x average return on investment

5-star rating on Google Business Profile
As a Google Ads agency, we've served clients like Nike, Sierra Nevada University, DirecTV, Verizon Digital Media, and Avatier. But what results can this agency offer with Google Ads, you ask? Let's quickly zoom in on a real use case.
Enterprise-class software company Peer Software wanted to grow brand awareness, increase sales, and drive leads through ad campaigns on an international scale.
We worked with Peer Software to create ad campaigns for Google Ads and Microsoft Advertising platforms that were hyper-targeted and addressed their audience's pain points. As a result, they were able to increase conversions by 128%, increase clicks to the website by 126%, and see a more than 46% decrease in cost per conversion.
With HawkSEM's senior-level marketing scientists working hands-on with you to perfect your Google Ads account and campaigns (not to mention, our unique ConversionIQ system that helps scale campaigns, optimize creative assets and focus on more profitable customers), you can be confident you're set up for success. 
Jellyfish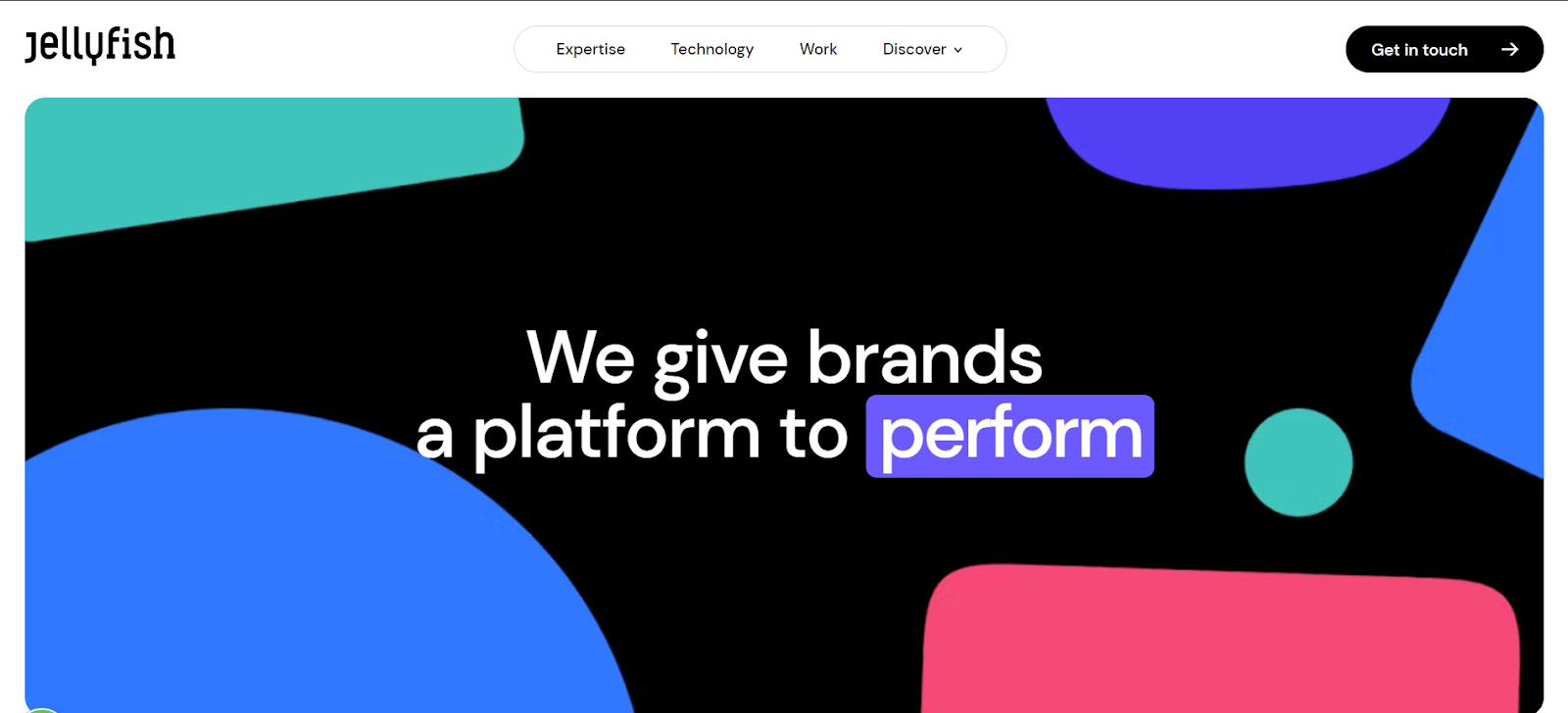 Jellyfish wants to help brands create a platform for themselves via digital strategy, conversion optimization, paid media, video production, and email marketing. 
This agency has worked with impressive clients such as eBay, Disney, Spotify, Slack, Samsung, Uber, and Booking.com. 
Also on that list of clients is Sunfoil Sunflower Oil (South Africa's title sponsor for cricket competitions), a company that was previously associated more with sports than with the kitchen. That is, until Jellyfish helped with their rebranding. By employing multiple strategies on social media, Google Display Network (GDN), YouTube, email, and their website, Sunfoil Sunflower Oil's rebrand got them over 5 million impressions. 
Jellyfish partners include Google, Meta, Salesforce, and Amazon. Along with PPC services, they offer clients strategy building, market intelligence, data gathering, training and development opportunities, and more.
3Q/DEPT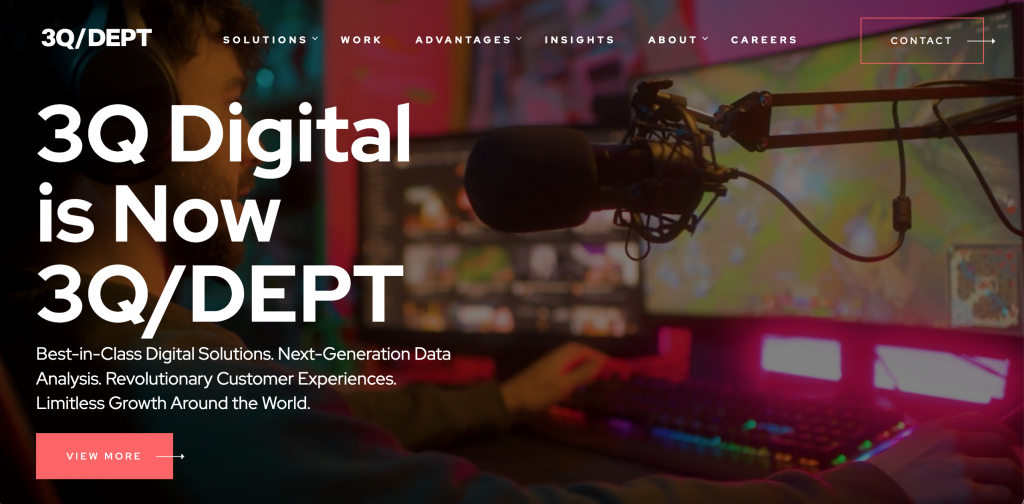 3Q/DEPT, formerly known as 3Q Digital, is the self-proclaimed largest independent growth marketing agency in the world. While providing a broad list of services such as SEO, content marketing, paid search, business strategy, and creative help, the company essentially segments its expertise within two domains: full-service digital and strategic advisory
The agency has clients like Pandora, Skechers, Turbotax, Square, and Nextdoor as part of its portfolio. 
Here's a closer look at a time when 3Q/DEPT was able to leverage Google Ads to create excellent results for their client, Blurb:
Blurb is a DIY book-making platform allowing people to create, publish, and sell books, magazines, and art. The company had heavy competition with paid search ads since their competitors kept bidding on the necessary keywords. 
To mitigate this, Blurb partnered with 3Q/DEPT, which optimized Blurb's Google Ads account, changed the way customers were tracked, and created non-brand campaigns that resulted in stronger cost-per-click (CPC) and cost-per-rating (CPR). Despite Blurb reducing its budget by 17%, the end result was better ROAS and bookings. 
Along with paid search, 3Q/DEPT offers customers services such as paid social, SEO, CRO, and ecommerce campaign management. 
Wpromote
With an impressive list of clients such as Adobe, Transunion, Whirlpool, Zenni, and Frontier Airlines, Wpromote has quickly become one of the most sought-after service providers in the online marketing space. 
In its own words, the company builds solutions to tackle the "gnarliest digital marketing challenges." Paid search, content marketing, search engine optimization, digital experience, and performance creative are just some of the services Wpromote provides. 
Wpromote has received awards and accolades from Adweek, Campaign US, US Agency Awards, and The Drum. 
Wpromote's POLYWOOD case study is just one example of how the company leverages Google Ads: 
The agency analyzed competitor trends and employed conversion-focused strategies to reach POLYWOOD's target demographic. They were able to help the outdoor furniture purveyor see a 985% increase in quarterly sales year over year (YoY), a 51% lower cost per order (CPO), and 2% higher average order value YoY. 
Along with PPC, Wpromote offers clients services in the realms of paid social, influencer marketing, content marketing, SEO, and performance creative.
Tinuiti
As a performance-focused, audience-centric marketing agency, Tinuiti wants to provide each customer with a personalized experience while keeping their privacy in mind. To wit, they've garnered a long list of partners who believe in Tinuiti's vision, leading them to manage media funds of $3 billion for their clients. 
One of the reasons  Tinuiti has been so successful is because of its program Mobius, which provides smart insights and optimized marketing strategies for clients. 
Presently, the company provides a host of services such as paid search, paid social, lifetime marketing, SEO, and Amazon Ads. Here's how Tinuiti stands with respect to Google Ads and paid search in general:
Jerome Furniture wanted to target past customers through search marketing, so it implemented strategies on Google and Microsoft (the brand also explored channels like Hulu, Pinterest, Meta, YouTube, and TikTok). Through its partnership with Tinuiti, Jerome Furniture was able to increase ROAS by 54% and the AOV skyrocketed by 121%. 
Along with the usual digital marketing services mentioned above, Tinuiti offers affiliate marketing, shoppable media, performance creative, mobile app marketing, streaming, and more.
MuteSix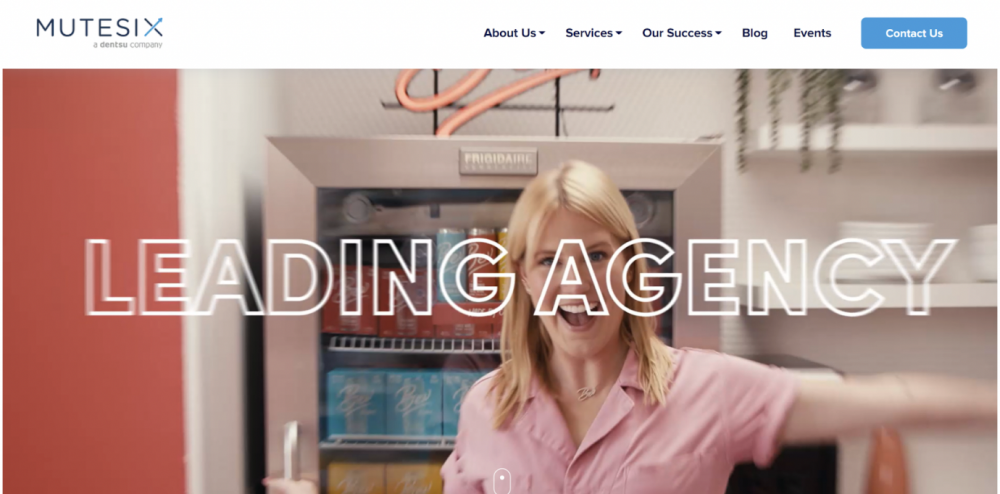 MuteSix is an online advertising agency specializing in direct-to-consumer (DTC) digital marketing. The agency offers services such as Amazon Ads, Google Ads, paid search, content creation, copywriting, and graphic designing. 
Actions speak louder than words, so let's get to the results – MuteSix: 
Delivered 40 billion impressions for clients in 2021

Generated over $1.5 billion in direct revenue from

PPC ads

for clients

Helps clients' revenue increase by an average of 50% after a year

Has helped more than 30 clients receive venture capitalist (VC) funding after partnering with their agency
Who are these clients, you may be wondering? Butter Cloth, Pluto, Burst, Ring, and Ministry of Supply are just a few of the names you'll see on their roster. 
One of their clients, GreenPan, wanted to scale using Meta Ads and paid search. So, MuteSix helped the cookware brand achieve its business goals by using Google Search ads, Display, Google Shopping, and Discovery. 
The agency segmented shopping campaigns, researched insights on their target demographic, and promoted GreenPan's products on-site. Through these efforts, Green Pan saw CTR increase by 3%, ROAS grow by 5%, and conversion rates increase by more than 14% month over month. 
Rise Interactive
Rise Interactive is an award-winning agency that operates in the domain of performance marketing, digital marketing, customer experience, and analytics. 
Much like other agencies in this list, Rise Interactive provides services such as:
Paid search

SEO

Amazon

ads

Affiliate marketing

Social media

marketing

Mail marketing
Rise Interactive knows what it's doing, and its client list is proof. On it, you'll see brand names like COUNTRY Financial, Navistar International, Ulta Beauty, Reynolds Consumer Products, and ColourPop Cosmetics. The company has also been granted accolades from the Global Agency Awards, DotCOMM Awards, Hermes Creative Awards, and Global Social Media Awards.
Let's zoom in on one of their satisfied customers: 
NorthShore University Health System wanted to market its healthcare solutions without spending too much on resources. So, the agency leveraged targeted PPC campaigns and developed an SEO strategy to achieve the organization's goals.
Rise Interactive also analyzed data and metrics from paid search campaigns, used short-tail keywords to their advantage, and restructured the client's entire paid search account. The efforts resulted in a 490% increase in appointments and a 27% increase in organic search traffic. 
As far as services go, Rise offers paid search, Amazon, marketplaces, email, social media, affiliate marketing, and more.
Spinx
Spinx Digital is a marketing agency specializing in web design and development, along with paid search. Their client roster covers an array of industries, from beauty, law, hospitality, and automotive to entertainment, fashion, and food producers.
Aside from the aforementioned services, Spinx provides solutions such as SEO, graphic design, ecommerce solution, social media marketing, and CMS management services. 
Spinx takes every client through its signature "connect, create, and evolve" process to: 
Help your

target audience

form an emotional

connection

with your brand

Create

solutions for you using technology and creative strategies to 

Help you

grow

as a brand by evolving strategies and solutions
Bega, Spexster, BSM Consulting, the Los Angeles Police Department, Willkie Insurtech, and Paul Hasting are just some of the names on Spinx's client list. 
The agency works to set itself apart through its expert offerings, that include:
Enterprise CMS solutions

Strategy and planning

Website solutions

Traditional digital

marketing services
Walker Sands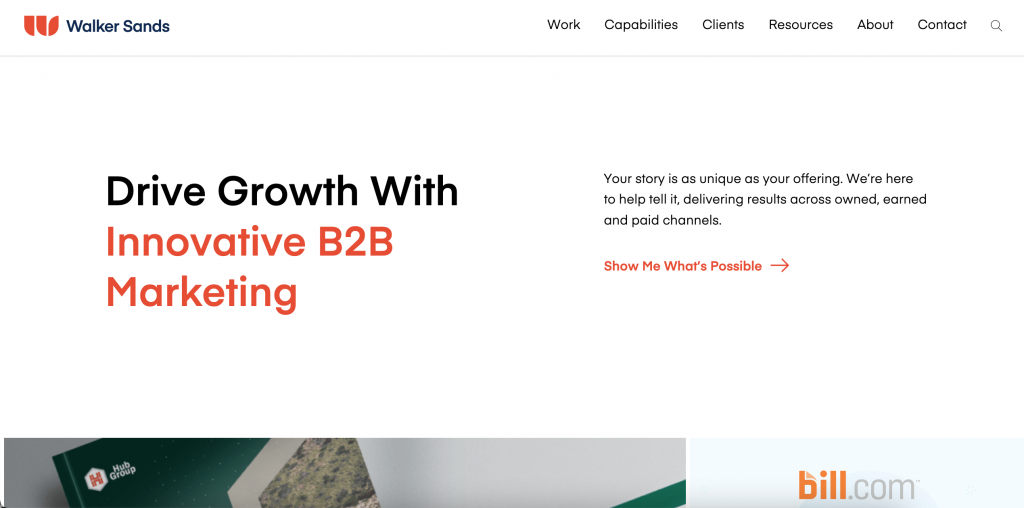 Walker Sands is a bit different from the agencies listed so far. Rather than focus on B2C companies as most marketing agencies do, Walker Sands focuses on B2B marketing utilizing PPC, web design, and SEO. 
Their goal is to drive growth through "innovative marketing," and they do this by:
Assembling the right team

"Pushing the limits" in B2B marketing

Tailoring

marketing strategies

to their clients' needs
Walker Sands's clients include Paylocity, Tessian, and Globant. 
They ensure their B2B clientele has their marketing covered all under one roof by offering these services:
Branding

Creative services

Demand generation

Marketing strategy

Public relations

Web services
Bruce Clay
When most people hear the name Bruce Clay, they think of SEO, which has been their specialty since 1996. While SEO may be their bread and butter, they recognize their clients need complementary services from the brand they know and trust.
The agency strives to give its clients visibility in the digital world through:
Guiding clients through struggles and changes like drops in traffic and website redesigns

Training companies to expertly carry out their own

SEO

Helping clients set goals based on research
Nascar, Rosetta Stone, and Nickelodeon are just a few of their clients.
Bruce Clay's full suite of services also includes:
Online

SEO

training

Search engine marketing

(

SEM

)/

PPC

Content development

Social media

advertising/SMM

SEO

tools and guides
Jumpfly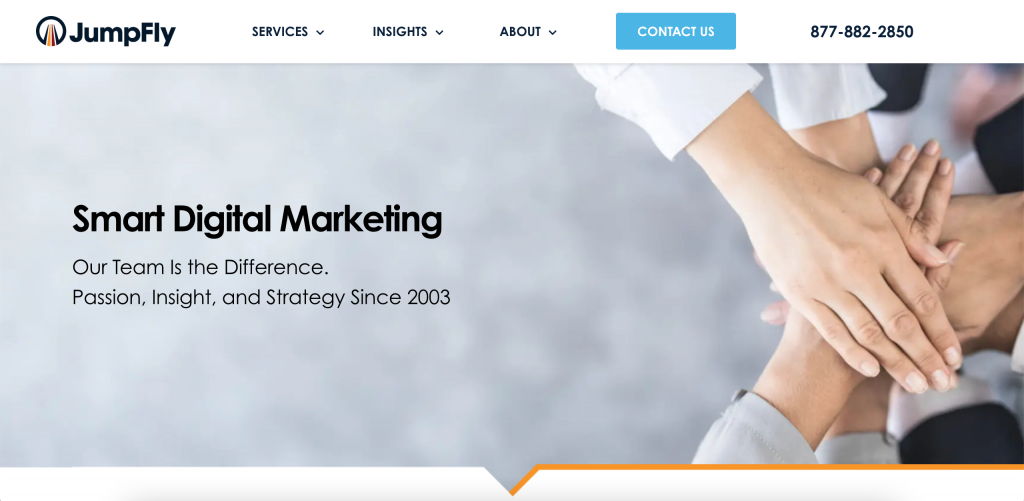 Jumpfly has quite an origin story, founded by a group of childhood friends in 2001 through an ambassador agreement with Goto.com. Since they've been in digital marketing from the start, they truly know the ups and downs of the industry. They also truly understand how quickly things change in the digital world.
Dedicated to maximizing their client's results, Jumpfly does this using skills and resources that includes:
A team of experienced employees (many have ten years of experience or more)

Focus on

PPC advertising

from day one

Participation in industry events to stay on top of trends
Discount School Supply, Shop Wild Things, and Nature Hills Nursery are noteworthy clients. 
Their full suite of services includes:
PPC

and display

Paid

social media

Ad management

for

Amazon

SEO

strategy
Silverback Strategies
Last but not least is Silverback Strategies. They believe their focus on team culture helps find the best people to drive success for their clients. Their focus areas are digital strategy, PPC, and SEO. 
They foster cross-channel collaboration and ensure they connect business goals to marketing objectives, all while investing in a positive team culture. 
Their full-stack agency also fulfills their clients' needs with these services:
Paid social

Performance creative

Display

Content marketing

CRO

Data visualization and reporting
What are the advantages of hiring a Google Ads agency?
Now that you've got your handy list of agencies, let's look at the advantages of hiring a PPC company.
1. A paid search agency knows how to reach the right customers
Setting up a Google Ads account is one thing. Creating effective paid search ads on this platform that reach your target audience, beat your competitors, deliver on their intent, and answer their questions? That's quite another. 
To understand your target demographic's intent, nuances, and characteristics, effective digital marketing agencies take a deep dive into your data and conduct independent research. 
Once an agency has your data, it uses your unique Google Ads account to target (and retarget) your ideal audience.
Great paid search agencies will take the time to dig into existing Google Analytics and other demographic metrics to see who you think your audience is, which audience segments you might be overlooking (if any), and help you brainstorm new keywords and campaigns to connect with them.
2. A paid search agency knows which keywords are worth bidding on
We all know keyword research is an integral part of any Google Ads campaign. However, instead of bidding on the keywords Google auto-suggests, the right digital marketing agency should be able to take things a step further by using search query reports (SQRs) to understand which keywords in your industry gather the most traffic and conversions. 
Paid search agencies can then analyze these keywords to ensure your ads see the best CTRs, then conduct A/B tests to see how your audience interacts with each keyword. They can then rework your Google Ads strategy to get you the best results possible. 
3. A paid search agency knows how to optimize your ads and campaigns
Keyword research and A/B tests are just one of the many ways to optimize your campaigns for better PPC management.
Aside from that, Google Ads agencies can also make data-driven decisions to improve the quality of your ad copy (thus reducing the price you pay per bid). They should also prioritize aligning your landing pages with your paid search ads to ensure a consistent message and streamlined process to turn a clicker into a qualified lead.
Don't get distracted by a flashy website and glowing testimonials. Customer reviews are definitely important, but that's just one factor. They need to be the right size, have the right talent, and communicate in a way that makes sense for you.
What does their PPC team look like?
Size isn't everything, but you do want to make sure their team has enough time to dedicate to your account. If they have just one PPC manager in-house, they probably don't have a lot of time to dive deep into your account and truly scale it. They also won't have anyone to cover them when they're sick or go away on vacation, and inevitably work will back up.  
Even if an agency has a big team, you should ask how many accounts one person usually handles. That will give you an idea of how much time they'll have for you and your needs. Success in paid search marketing relies on a/b testing, ad copy creation, data analysis, keyword research, and audience building, all of which take time.
You may also want to ask how much time your account manager will spend with you each month. If they're too busy or have too many clients, it can be difficult for them to provide adequate service.
Are they experts in their craft?
When considering how well an agency can handle your particular campaign or business objective, you'll also want to make sure they're experts in their craft. Start by looking for badges on their site (but don't be shy about asking, either).
Are they Google Premier Partners? Do they have a Microsoft Partner badge? Are the people who will be working on your accounts Google Ads certified? 
Premier Partners and Microsoft Partners enjoy extra benefits, which help you too. You can get whitelisted for beta features and get insider data on industry trends. There will be someone to escalate issues and help you navigate new features. Google Partners get regular access to account reps that can help plan, strategize, and troubleshoot as needed. 
Search advertising is a big world. Do they have experience in your industry? Ask for case studies to see how they've helped businesses like yours. Ask questions like, "Do you have lists of keywords that you know will work?" and "How much do you think my CPC and CPA might be?"
They may not always have the answer, but you're looking for someone who will do the research. It's fantastic when an agency has a tried and true keyword list, but that won't work in all industries and all cases. 
Remember, it's about how the paid search agency answers, not just the answer itself. They should be willing to say they don't know and get back to you when they need to gather more data. No one in digital advertising is omniscient. 
Ask about ongoing training and professional development
As a PPC marketing agency client, their ongoing training and professional development are vital to your account's success. It's crucial for staff to always be learning, since the digital world is fast-paced and ever-changing. 
Plus, learning comes in stages. None of us are experts from the get-go. As paid ads managers become more acclimated to platforms and processes, it makes sense to teach Excel spreadsheet hacks, advanced targeting strategies, and all of the other things that true masters will need to use to enhance a client's KPIs and take performance up a notch.
Find out how they keep themselves up to date on the industry
PPC managers need to stay up to date and have an idea of what the current trends are. There are plenty of ways this can be done, including:
Reading industry blogs like

Search Engine

Land and

Search Engine

Journal

Joining webinars from big agencies, industry blogs, and the platforms themselves

E-courses to learn

Google Ads

blog

Microsoft Advertising

 (

Bing Ads

) blog
Dionisio explains, "I would say that a good agency is an agency that is cognizant of not just the market as of today, but the market as of tomorrow. An agency that's looking forward and trying to push, not just the clients, but the actual agency in itself into new markets, new technology, new issues, i.e., like cookie list issues is really topical right now."
The takeaway
Hiring one of these digital ad agencies to help you with paid search campaign management is always going to be a worthwhile investment if you want to scale your business, increase your ad spend, and capture more clients. 
Remember Dionisio's words as you pick your paid search agency: "[..] I would choose that's looking out for tomorrow, and isn't just about looking out for today. [They're] capable of understanding just kind of the wild world we're in where, between climate change and economic crisis, there are really no annual trends." 
If you're on the hunt for a paid search agency that goes the extra mile, delivers results, and works as a partner (not a service provider), you're in the right place.
To see what HawkSEM can do for your Google Ads program and your overall digital marketing strategy, get in touch with us today.
This article has been updated and was originally published in November 2022.