Looking to start or revamp your approach to paid search? Use this guide to determine the best paid search company for your business.
Here, you'll find:
A brief explainer of paid search

A list of 10 trusted paid search agencies to help with your campaigns

Benefits of working with a paid search company

Tips to decide which agency is the best fit for you
Businesses that have leveraged paid search know how much of a boon it can be for your bottom line.
For many, this digital channel is a necessary one for reaching your marketing goals quickly and efficiently.
There are countless ways to reach an audience online, and each strategy has its own pros and cons. But businesses big and small can reap the benefits of paid search (also called pay-per-click or PPC marketing) thanks to its visibility, targeting, and ability to lead prospects down the funnel.
In fact, web users who visit a site via a paid search ad are 50% more likely to purchase something compared to users who found the website via an organic search result.
You might think, "Sure, but how many people actually click on PPC ads?"
When it comes to customers who are ready to make a purchase, the number is even higher. About 65% of customers click through a link to buy.
You don't have to become an overnight expert in paid search to see these results for yourself. Instead, you might consider partnering with a paid search company to handle your marketing needs. And since the options can be overwhelming, we took the time to highlight our top 10 choices below.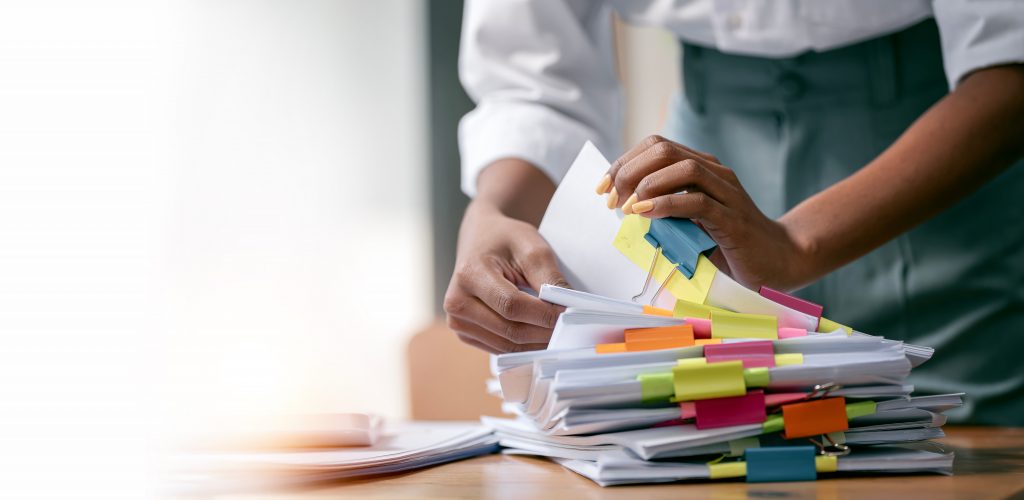 10 best paid search companies:
HawkSEM

Wpromote

Tinuiti

Merkle

Loud Mouth Media

PPC Geeks

Seer Interactive

Rise Interactive

Exclusive Concepts

Booyah Advertising
What is a paid search company?
A paid search company specializes in strategy and management for PPC campaigns. Paid search companies can be a valuable partner for businesses that want to increase brand awareness and make the most of their marketing budget.
These companies can help businesses determine:
Where and how to advertise

How much to spend on each campaign

How a current campaign's performance can impact future marketing efforts
Many PPC agencies go beyond standard campaign management. They may help clients create landing pages or ad copy through content marketing, determine the proper metrics to keep track of, or offer customer relationship management (CRM) services as well.
Paid search: A quick explainer
If you're not familiar with the term "paid search," you've still probably interacted with this marketing type.
Head to Google and type in a search query. It could be anything from "red high heels" to "fishing poles" to "lawyers near me." It's almost a guarantee that you'll see a sponsored search result near the top of the screen. This sponsored ad is an example of paid search.
Paid search campaigns let businesses pay search engines to get their ads higher on results pages for relevant queries.
Companies create their ads and bid on related keywords or phrases that their target audience might search for. When a web user searches for the word or phrase in question, the search engine will run an auction amongst advertisers. In an instant, the search engine's algorithm will choose a winner based on the bid amount, quality of the ad, relevancy of the keyword, and more.
In the blink of an eye, a winner is chosen, and their ad is placed on the search engine results page (SERPs) and presented to the web user. Advertisers can track their budgets and determine their cost-per-click (CPC) through analytics software or dashboards on platforms like Google Ads and Bing Ads.
PPC marketing campaigns can be overwhelming for beginners and experienced marketers alike. But working with a PPC agency can take some stress away and help you garner quick results. Here are 10 of the most respected paid search agencies in the industry today.
Top 10 paid search companies to consider in 2023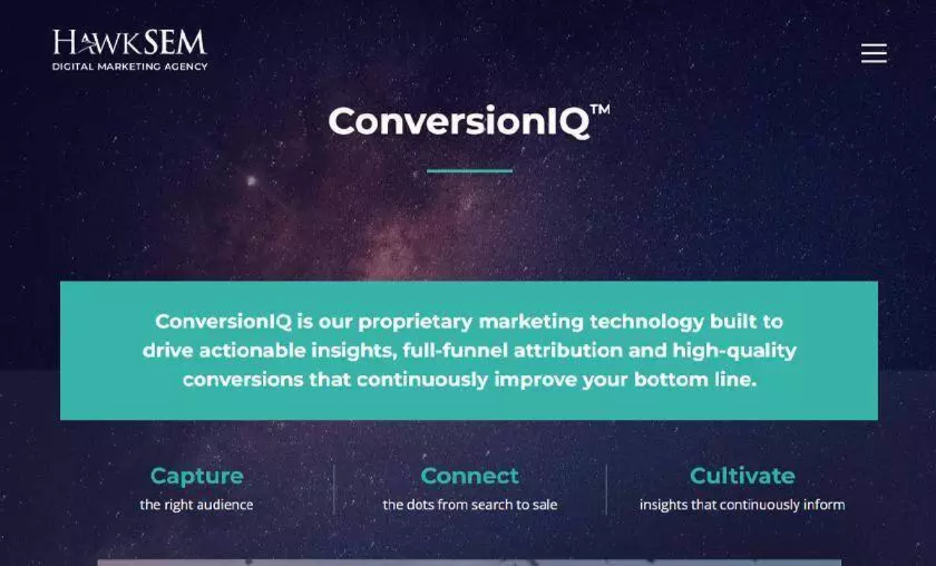 Paid search is one of our most popular services — and for good reason. We're proud to say HawkSEM is among the top 3% of PPC management agencies in the country, and we're happy to help create and manage campaigns big and small.
We've spent the last 15+ years developing the experience and know-how to launch and maintain PPC campaigns the right way. Your return on investment (ROI) is at top-of-mind in everything we do, and it's helped us produce results like these for our clients:
Whether you're starting PPC marketing for the first time or you want to change up your entire inbound strategy, our team will meet you where you are. Our proprietary ConversionIQ technology allows us to use real-time data and discover the insights that are sure to bring results, and we'll continue adjusting and monitoring your key performance indicators (KPIs) until you get where you want to be.  
On top of offering PPC management, we can also help you with email marketing, retargeting, search engine optimization (SEO), and more. Our team of experts can be your one-stop shop for all your marketing needs, whether you work in SaaS, law, medicine, real estate, or any other industry.  
Wpromote is an innovative independent marketing agency that can meet a wide range of marketing needs. Their areas of expertise include all kinds of paid media, earned and owned media, and digital intelligence services.
Wpromote's results speak for themselves. They've worked with big-name clients including Whirlpool, Cinemark Theatres, and Marriott, among others. Recently, the team at Wpromote helped cosmetics brand Jouer increase its Facebook return on ad spend (ROAS) by an impressive 25%.
Clients working with Wpromote are able to access unique Google features, thanks to Wpromote's status as a Google Premier Agency Partner. The company also offers distinct digital advertising strategies specific to YouTube marketing, as well as robust data that can help guide any paid search campaign.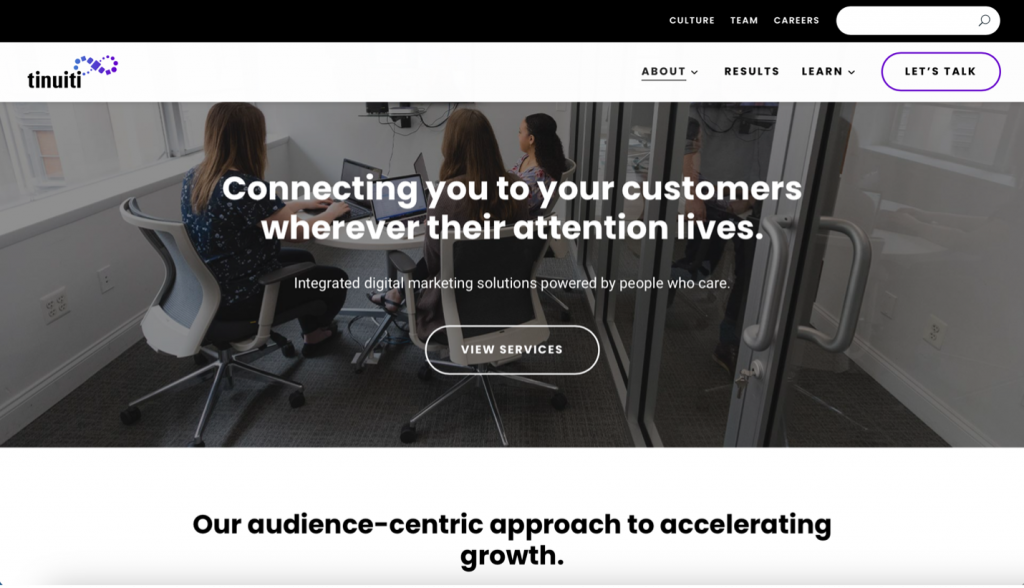 Tinuiti asserts itself as "the largest independent performance marketing firm across Streaming TV and the Triopology of Google, Facebook, and Amazon." With more than $3 billion worth of media managed, Tinuiti has carved out a place for itself among the country's most trusted marketers.
Of course, paid search is a major service offered by Tinuiti. The team of PPC experts works with clients to create strategic marketing plans based on market research, account history, and proprietary data. Segmented research, audience targeting, iterative ad testing, and human-led automation come together to form one-of-a-kind strategies for every client.
Tinuiti does more than just paid search and streaming, though. Their team can help businesses make the most of platforms like Google Shopping, Amazon, Instacart, Walmart, Target, and others, all while offering reasonable pricing for any client.
If you're investing in ad campaigns, you might be interested in other marketing services from Tinuiti. Other popular services include SEO, mobile app marketing, analytics, and affiliate marketing.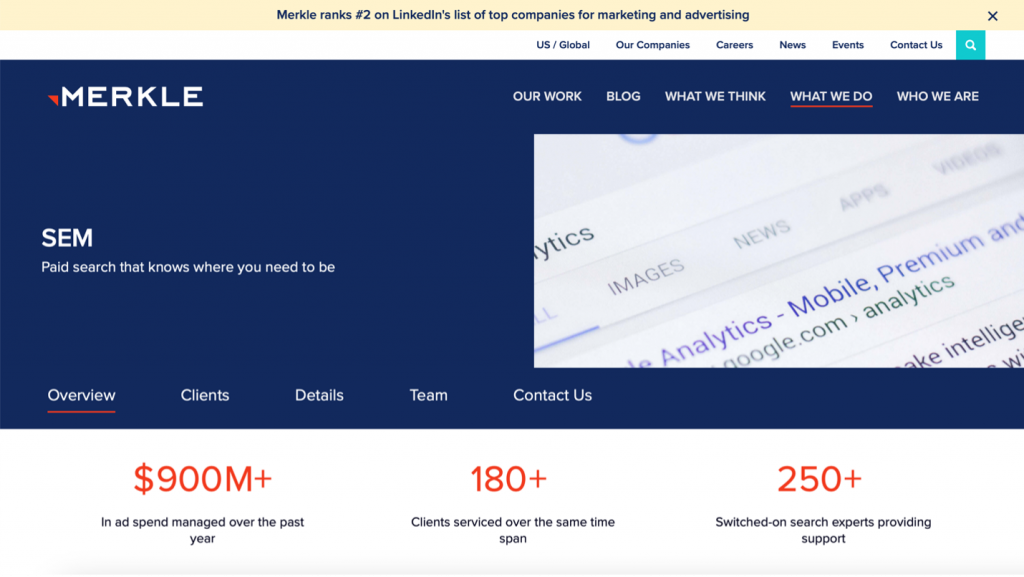 Merkle started out as a small data processing company, but when it was purchased by David Williams in 1988, things would never be the same.
Today, Merkle is an award-winning customer experience management company. They boast more than 16,000 global employees and over 400 world-class clients. The company attributes its success to its people-based search engine marketing strategies and highly customized customer experiences.
Clients who leverage Merkle's paid search services have plenty to look forward to. The team conducts comprehensive keyword research and offers bid, budget, and forecast management to help clients use their ad budgets wisely and get the greatest ROI possible.
But it doesn't stop with paid search. Merkle offers an abundance of additional online marketing services, including customer relationship management (CRM), social media marketing, digital campaign management, B2B marketing solutions, and more.
Merkle serves clients in a wide range of industries and has worked with several big names including Cancer Treatment Centers of America, Nestlé USA, Crocs, The Hershey Company, and others.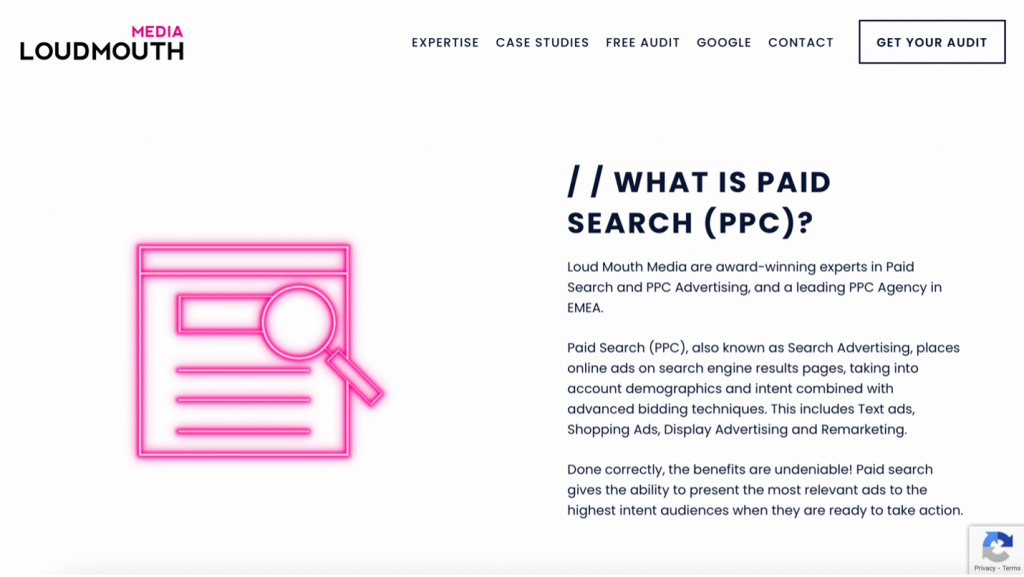 For companies across the pond in the United Kingdom, LoudMouth Media is an excellent option for all digital marketing needs.
Based in Belfast, Northern Ireland, LoudMouth Media was established in 2011. In its more than a decade in business, the company has racked up some impressive awards. The 2021 UK Search Awards named this company the Best Small Integrated Agency. In 2022, the company won Small Paid Media Agency of the Year at the UK Paid Media Awards.
Their expertise in paid search is just one thing helping the LoudMouth team stand out from the crowd. You can turn to LoudMouth for help with display advertising, video marketing, social media marketing and messaging, and more. Clients know they're working with some of the best. LoudMouth Media is a long-standing Google Premier Partner Agency.
In addition to search engine marketing (SEM), LoudMouth boasts expertise in digital strategy, SEO, performance creative, GA4 migration and training, programmatic advertising, and email marketing.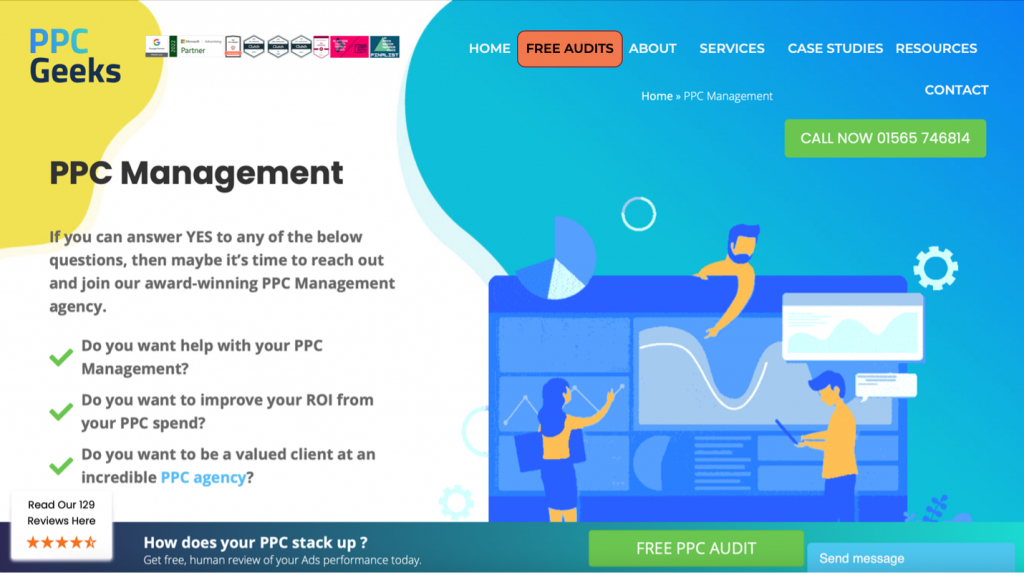 PPC Geeks is another well-known UK digital marketing agency. They're based in Liverpool, England, with three other offices around the country. At PPC Geeks, every service and client interaction is centered around six key values: Clarity, Honesty, Excellence, Evolving, Respect, and Sincerity. (Yes, that spells "cheers.")
PPC is right there in the company name, so it's no surprise that PPC strategy and management are some of the most popular services here. Clients benefit from free PPC audits, business-specific strategies, full conversion tracking software, competitor analyses, and more.
PPC Geeks goes far beyond your standard search advertising services. Their team of experts can provide laser-focused insights for platforms like Google Ads (formerly known as AdWords), Facebook, LinkedIn, TikTok, Bing Ads, Amazon, Twitter, Instagram, and YouTube.
If you're concerned about quality, don't fret. PPC Geeks has earned countless accolades to back up their work. Recent awards include a spot on PromotionWorld's Best PPC Management Companies list for March 2023, Good Business Charter accreditation, and membership in the Federation of Small Businesses.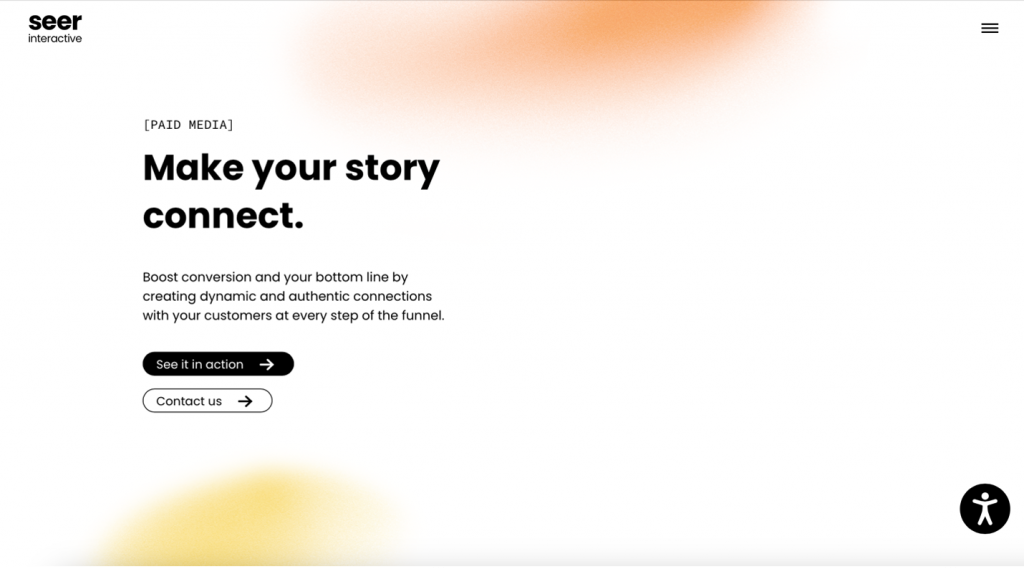 Founded in Philadelphia, Seer Interactive has made a name for itself among the top paid search agencies. Their solution-driven approach has helped this team earn the business of names like Flooring America, AMResorts, Drexel University Online, and others.
No matter where you want to advertise or whom you want to target, Seer Interactive has been there. The company holds more than 200 certifications across 16 advertising programs, allowing you to make the most of any marketing channel you please.
Clients working with Seer to create, distribute, and monitor their search ads will get to collaborate with a team of nearly 200 Search Specialists. Revenue growth and customer satisfaction will remain at the center of your campaign, and you'll benefit from strategic data, dynamic insights, and actionable reporting.
Additionally, clients can work with Search Specialists and Seer's in-house creative and media teams on paid social campaigns for platforms like Facebook, Twitter, Instagram, LinkedIn, Pinterest, TikTok, Snapchat, Reddit, and Quora.
Seer Interactive offers services for every stage of your digital marketing efforts. Start with market intelligence or consumer insights before moving on to services like SEO, creative, and paid media. Finally, you can improve future campaigns with Seer's analytics and conversion rate optimization services.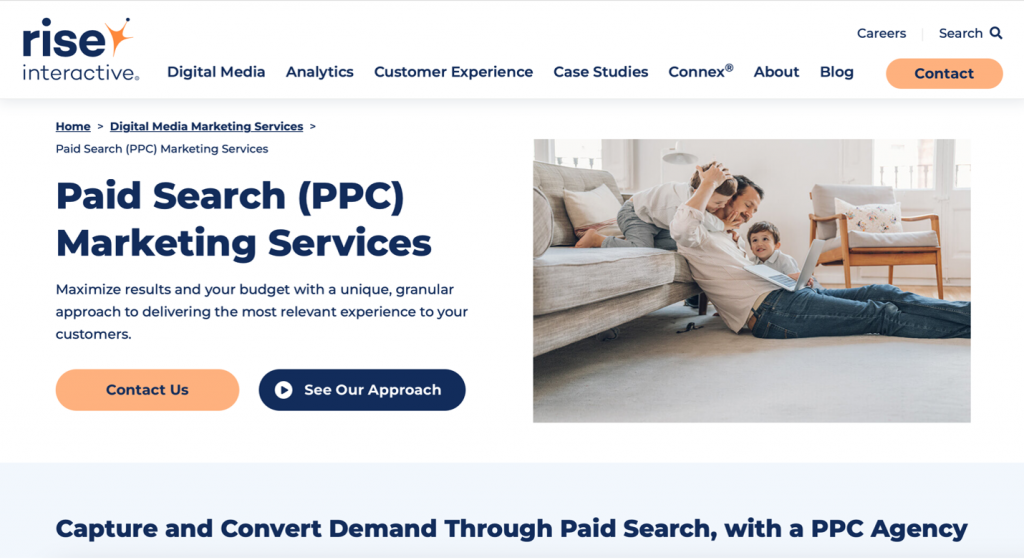 Paid search has been at the heart of Rise Interactive since it was founded more than a decade ago. Now, Rise remains one of the industry's most trusted PPC companies. They've served big-name clients like Ulta Beauty, ColourPop Cosmetics, Tempur Sealy International, American Lung Association, and Meineke.
Rise Interactive has gained traction over the past several years, even being named one of Adweek's 100 Fastest Growing Agencies in 2019. The company has also received accolades from the Global Search Awards, the Web Excellence Awards, the Hermes Creative Awards, and others.
When it comes to paid search, Rise Interactive keeps both your audience and your budget in mind. As they put it, their proven search strategy involves "maximizing budget allocation through granular optimization and leveraging data to deliver relevant customer experiences."
The team at Rise works with clients to identify the greatest opportunities for conversions based on your specific intent and unique goals for your campaigns. Offline data is combined with online keyword performance to improve both conversions and ROI. When it's time to scale, you'll get the best of both worlds in terms of human effort and automation.
Rise Interactive offers additional digital media services like Amazon advertising, SEO, programmatic advertising, affiliate marketing solutions, and social media marketing.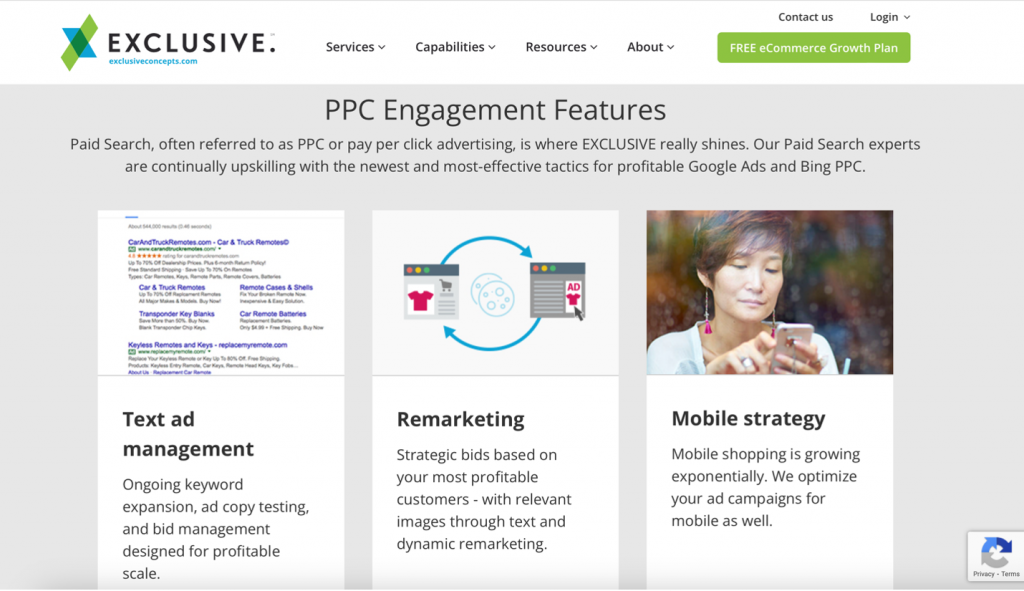 Ecommerce companies may find that Exclusive Concepts makes a great partner for their paid search needs. Exclusive Concepts serves hundreds of clients in dozens of industries, including names like HP, Jelly Belly, Neiman Marcus, The Knot, Unique Vintage, and others.
Clients who work with Exclusive Concepts don't just get access to the company itself. They also reap the benefits of Exclusive Concepts' partnerships with industry leaders like Google, Amazon Ads, Meta, BigCommerce, and Klaviyo.
Pay-per-click management services from Exclusive Concepts can help you build a PPC strategy from the ground up. Their team of strategists will help create a solid foundation for your campaigns, both those targeting new customers and future remarketing campaigns.
Once a campaign has launched, the team at Exclusive identifies the most profitable areas to expand and the least profitable areas to scale back on. Proactive account strategies ensure your information is secure and your campaigns are as effective as possible.
Besides paid search, Exclusive Concepts also offers services like SEO, social marketing, conversion testing, reporting and analytics, and email marketing.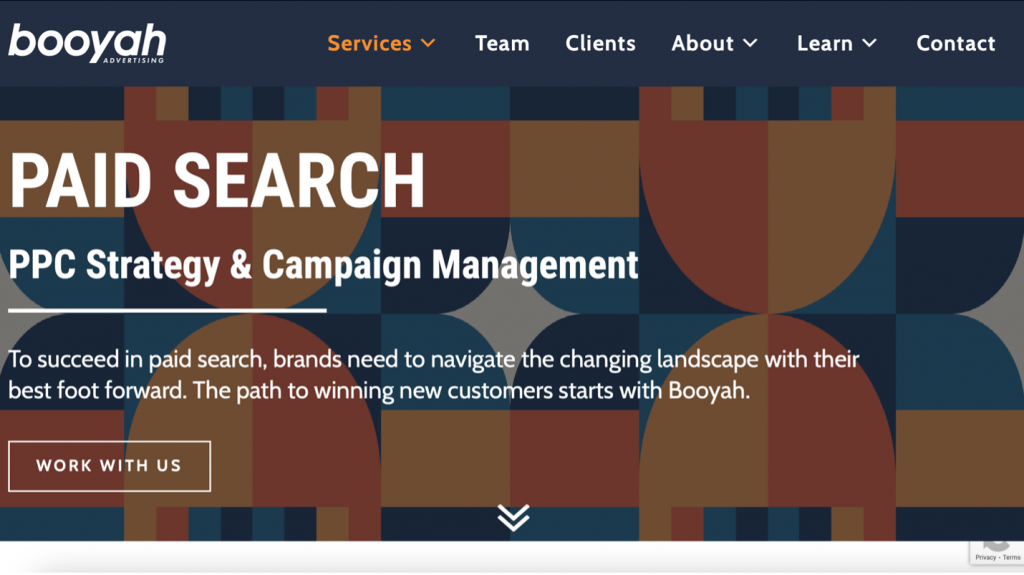 Booyah Advertising is a Denver-based agency that combines big agency tools with small-business attention. Their emphasis on building relationships and implementing the latest technologies have helped them find success for brands like Milani Cosmetics, Dermalogica, and Dish Network.
Booyah Advertising and its CEO Troy Lerner have received numerous recognitions over the years. They've been featured by publications like The Wall Street Journal, The Denver Post, and Inc. Magazine.
The team at Booyah starts every paid search campaign by focusing on the client's audience and their unique needs and expectations. You'll be able to reach customers at every stage of the buyer's journey. They'll also help you with platforms like Google Ads and Microsoft Ads.
Booyah provides all-encompassing services to meet all your digital marketing needs. Combine paid search services with other areas of expertise like organic media, Amazon marketing, creative assets, and media strategy.
The takeaway
Paid search agencies can be valuable partners in your overall digital strategy. You can benefit from outside expertise and fresh perspectives while saving time and money over hiring an in-house team.
PPC advertising campaigns aren't going away any time soon. So there's no better time to optimize your strategy. Working with an experienced partner can help you build a strong foundation and adapt future campaigns for ultimate results.
The HawkSEM team would love to help you take your paid search efforts to the next level. We can also work with you to enhance your email marketing campaigns, remarketing strategies, SEO, and every digital marketing effort in between.
Reach out to our team today to see how we can help you master your next paid search campaign.